NICOLAS VERDAN LOCKDOWN Q&A APRIL 2020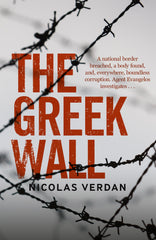 NICOLAS VERDAN Q&A APRIL 2020
 Where you are currently living and are you needing to self-isolate in your country? 
These days, I'm staying at home, in Chardonne, a village facing Lake Geneva and0 the Alps, high above Vevey on Mont-Pélerin southside. We have been asked to stay at home. But we are free to go shopping (essentials, food) if we follow the safety rules. 
How are these surreal days influencing your normal writing process?
The current situation prevents me from writing. Too  much to organize (family) and to think about for even thinking at my work. Bu who knows, maybe those surreal days are an inspiration...

 
What are the little things that are getting you through this extraordinary time?
 Reading! As usual (I'm a bookaholic) but more time to spend evenings with super books. Actually, I'm discovering the work of Howard Fast (E.V. Cunningham). Sylvia is an amazing unconventional whodunit story.

If you had to isolate yourself with one other writer, who would it be and why?
J.G. Ballard. We have much to talk about... He was right on everything


 Which historical writer would you find it difficult to be self-isolating with? And why?
With Jack Kerouac. Because he would ask to go out all the time. And of course because he already wrote his self-isolating experience in Desolation Angels, the journal he kept when he was a fire lookout on Desolation Peak in Washington State.

 Do you have any local stories of kindness or good deeds that you can share?
Local bookstores who deliver for free, same with local food suppliers. But, above all, a mother of two I met as a journalist a few weeks ago. She cares for the elderly  in a home in Geneva. Every morning (she wrote me she's afraid and too many people are infected there) she courageously goes to work. As cultural and artistic facilitator in that social health-care institution, she has to smile in any case. And she does.

 
What are you currently reading for pleasure?
Biography of Robert Massin, famous french graphic designer whose experimented successfully radical new expressive forms of typographic composition over the half past century. (He invented the Folio Gallimard logo and graphism).


 Is there a local dish or comfort food that you are eating more regularly at the moment, to get you through these turbulent times?
Fresh vegetables from local producers. And wine of Chardonne, with a fleshy and sappy caractère.
Francois Von Hurter