Reviews Divorce Turkish Style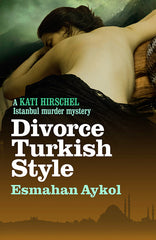 Riveting Reviews ELN
Divorce Turkish Style is the third Kati Hirschel mystery (all three are available in English from Bitter Lemon Press), a fact made clear several times during this book, when Kati reminds her "dear readers" of her numerous shortcomings and foibles, not least her constant desire for cigarettes, which she has now foresworn. An irritating and old-fashioned device, but let that pass.
The author Esmahan Aykol is a Turk, who divides her time between Istanbul and Berlin; her protagonist, Kati Hirschel, is a German who's lived in Istanbul for long enough to give us some intriguing insights into both the country and the city, where she runs its only crime bookshop. She's also an amateur detective and is aided and abetted in her sleuthing activities by her flat-sharing male colleague Fofo, who is as gay as she is straight and can be as mischievous as she can be po-faced. Their banter and arguments are a leitmotiv throughout the book, as are her penetrating and at times priceless comments on the people she interviews and the places they live in:
The brasserie's clientele consisted mainly of Nisantasi ladies… [who] whether fifteen or seventy, looked amazingly similar, with noses fashioned by the same cosmetic surgeon, swollen pouting lips and identical facelifts. They… bore the signs of Botox injections, subcutaneous vitamin cocktails and several tanning sessions a week… I was repelled by skin burned orange on a sunbed.
She worries about the size of her bottom, but acknowledges that Turkish men like women that way; nonetheless, she excoriates them mercilessly:
Taking courage from each other like ancient warriors, they'd set out on the prowl in groups of at least three, pestering any single woman they encountered… pushing and shoving each other, to ogle, assault and terrorize the women. By dark, they'd be on the bus home, where they held themselves responsible for the honour of their mothers, sisters and wives.
At this point in her story Kati is without a partner and frequently laments her single status; she has a large mortgage to pay off and a business that isn't exactly a money-spinner. She is, in other words, your average, mixed-up, 21st-century professional.
The mystery in Divorce Turkish Style concerns Sani, a young woman environmental activist, who's in the middle of a divorce and is found dead in her house from what is pronounced to be an accident. But Kati is persuaded by Fofo, after some initial hesitation and worried glances at her bank balance, that she should put work on hold to investigate this 'accident': and so unravels a tale of unscrupulous factory owners, who pollute the Ergene River basin; Thracian nationalists, who may stop at nothing; Sani's engaging husband, who may not be quite what he seems; her sister, who is probably too helpful; her former lover, who lives just across the street; and her mother-in-law, who, like most Turkish women of her class, is both strong-willed and fiercely protective of her son. There are blind alleys and red herrings a-plenty, interspersed with Kati's reflections on the habits, good and bad, of her friends, foes and acquaintances, on the appalling state of Istanbul's pot-holed streets, and on her sparring-partner relationship with Detective Commander Batuhan, who impatiently dismisses any suggestion Sani's death is suspicious.
The denouement is surprising and – without giving anything away – does not quite count as murder. But, dear reader, I will say no more and leave you to work it out for yourself – if you can.
Crime Time:
'Kati Hirschel is known as the owner of the only crime fiction book store in Istanbul. However, Kati does not limit herself to merely recommending crime fiction to her customers as she regularly acts as an unpaid amateur detective herself.When her friend and work colleague Fofo draws her attention to a newspaper report concerning the mysterious death of a beautiful young woman called Sani Ankaraligil, who they have regularly seen eating in a local restaurant, her curiosity is awakened.
Whilst the local police conclude that the death was simply an accident Kati has other ideas. Her investigations lead her back to the Thracian village where Sani's father still lives and her conversations with him reveal that she was an activist opposed to the pollution of the region's rivers by local industrialists. But just as one line of enquiry emerges Kati discovers more about Sani's life and her domestic conflict with her husband.
This is the third in the series featuring Kati Hirschel and as usual the real star of the story is the city of Istanbul itself. Packed with detailed descriptions of life in this iconic and aged metropolis author Esmahan Aykol succeeds in bringing to life the sights and sounds (and smells) of the city. From the tradition of Ramadan drummers to Kofte parties, Turkish cafes to kebab houses and the traumas of Istanbul during rush hour Aykol creates a wonderful backdrop to her engaging crime story. There is likeable humour here too such as when the well-known phrase "Revenge is a dish best served cold" is translated into Turkish as "revenge, like gazpacho, should never be eaten hot". Both funny and enjoyable, "Divorce Turkish Style" is another Turkish delight from Esmahan Aykol.' 
Publishers Weekly:
The twist-filled plot careens through Istanbul as unpredictably as the traffic…A small newspaper item reporting the untimely death of Sani Ankaraligil, an environmental activist and the soon-to-be ex-wife of the heir to one of Turkey's heftiest fortunes, is about all it takes to intrigue amateur sleuths Kati Hirschel and her friend and employee, Fofo, in Aykol's chatty third outing for the spunky Istanbul mystery bookshop owner (after 2013's Baksheesh). Kati and Fofo manage to find more than a few people who might have wanted the fetching blond dead, starting with the pollution-generating factory owners who turned her childhood village into a sulfurous toxic wasteland. Add rumors of a couple of lovers to the mix—one Sani's now-married college sweetheart, the other a younger pop star—and the inquisitive duo are inclined to disagree with the police view of the case as a tragic accident. The twist-filled plot careens through Istanbul as unpredictably as the traffic, the final destination ultimately less important than the scenic journey to get there.
San Diego Book Review:
A young woman is found dead in her nice home near the coast, she is the wife of a rich industrialist. Questions arise, was she murdered, did someone watch her die after she suffered an accident. As these questions start to pop up the suspects start to mount up. This crime novel explores modern day Turkey, and everyone that could have played a hand in her death. From polluting industrialists tired of her environmental organization, to her soon to be ex-husband or his mother in law, a former lover, a current lover, and many more. Kati Hirschel, owner of the only crime fiction bookstore in town, gets drawn into this mystery to find out what happened to the young lady, so that she may finally find some peace. This is not just a run of the mill crime novel, Divorce Turkish Style explores modern day Turkish society. From the wanton environmental waste, to the constant corrupt construction in modern day Istanbul. Kati Hirschel must balance her bookstore, getting older, and possibly finding another lover while trying to solve this case. This is truly a tale of divorce the Turkish way. 
Journal of Law Society of Scotland:
This column has met Ms Aykol before, when we reviewed her last novel, Baksheesh. Appropriate then that our latest encounter was a chance one, unplanned, unexpected envelope popping through the letter box sort of thing. For that seems to be the way of life for Kati Hirschel, central character in these agreeable crime fiction novels. Had Hirschel, in a previous existence, lived in England some ninety years ago her surname might well have been Marple. Although her business is the running of a book shop specialising in crime fiction, she too stumbles on dead bodies in the oddest of ways, and she too has an ambivalent relationship with homicide detectives. To be frank, the basis upon which she gets involved in the current case is plain silly. Someone whom you see from time to time eating salad at your local restaurant dies in circumstances which the authorities describe as an accident, yet you feel involved to take on an "investigation" entirely off your own back. Hmmm. And of course solve it after a journey involving environmental pollution, pressure groups, corporate corruption and pop stars. But the meandering route is a pleasant one, and Hirschel is an engaging companion. A gentle read, less frantic in pace than the style we are more used to these days.
Book Bag:
Kati Hirschel still owns Istanbul's only crime book shop while still supplying bed and board to her former lover, Spanish lawyer Fofo. When Fofo dramatically points out the news report surrounding a young political activist's natural death, Kati doesn't pay much attention. But then she realises that the face of victim Sani is familiar, she double takes. There again this is nothing compared to Kati's next realisation: this death may not have been that natural. Turkish author Esmahan Aykol brings back German born/Turkish adopted Kati Hirschel for the third time in an English translation. If you aren't familiar with Kati, think a younger German-in-Turkey Miss Marple mingled with the delicious informality of The No1 Ladies Detective Agency.
Once again Kati's non-Turkish origins making her our ideal guide to local ideas, sites and customs. In enabling Kati to turn away from the story for a moment from time to time, so that she can explain or point out something to us, Esmahan's excellent evocation of place shines through. For instance we're surprised by Kati's surprise when the café tea boy doesn't attend to her immediately she sets foot over the café threshold. Then we're out and out shocked when we hear about Turkish divorce law. In fact at times the murder becomes a sub-plot as more routine matters take centre stage; an observation rather than a complaint as it all adds to the layers of undoubted interest. Fofo (the lawyer with the unlawyerish nickname) continues to use Kati's flat as a base in between gay assignations (gay in all senses of the word) but from time to time he comes in useful for more than his mischievous roguishness. Sani, our murder victim becomes more interesting to both of them the more they discover. As well as seeking a divorce, she was an environmentalist which provides a window on the real life water pollution problems in the Thrace region of Turkey. Here Esmahan demonstrates a lightness of touch, avoiding the environmental soap box and leaving us to extrapolate our own conclusions. In treating us like adults she also makes it more dramatic.
The environment is obviously a cross-gender issue but other areas of this novel seem more female orientated. We look at the plight of the Turkish women with a 'sisters together' feel that may not appeal as much to the chaps. For those of us who have become fans with concerns for Kati's happiness, the epilogue finishes on a nice little teaser. So here's to the next time; I'm looking forward to it. 
Booklist:
A mysterious death so intrigues Kati Herschel, operator of the only crime-fiction bookshop in Istanbul, that she begins to investigate it, even though she has no business doing so. Kati and her Spanish colleague Fofo had often seen Sani Ankaraligil lunching at a little restaurant near the bookshop; now beautiful Sani, who married into one of Turkey's richest families, has been found dead in her home at the age of 32, with no signs of trauma. But Sani had applied for a divorce from her wealthy husband shortly before she died, and the environmental group she founded was working to stop industrial pollution in a nearby community. As Kati and Fofo check further into Sani's background and activities, with the imprimatur of Homicide Detective Commander Batuhan, they find others who might have wished the woman dead. Kati's use of what she's learned from reading mysteries adds interest to the third in this series (after Baksheesh, 2013), as does the background of the Turkish culture. Notable for its provocative protagonist and sense of place.
Bookriot:
If you're looking for a quirky, bookish amateur sleuth, look no further. (Oh also, you should be reading the Thursday Next series if you haven't already. Just saying.) Kati owns Istanbul's sole mystery bookstore, and as a lover of mystery, she often finds herself getting involved with cases (despite having no formal detective training). In this story, a beautiful woman she often sees in her neighborhood dies, and Kati suspects it could be murder. There are multiple motives for her murder, some politically-driven and some personal; Kati finds herself quickly in over her head, but persists to find the truth.  
My Book Self:
The mystery aspect was mild. The search for the culprit(s) is slow and as expected enlightening. The victim was a distant acquaintance of Kati's and as she peels back the layers and inner circle of this woman's life things become very interesting as secrets and possible motives are exposed. The drawn out narrative can drag a bit, however Kati's often brash personality keeps you entertained. Fofo, Kati's best friend and fellow amateur gumshoe have their share of witty repartee allowing for plenty of chuckles. Momentum ebbs and flows, other scenarios interrupt causing minuscule subplots.
Kati Hirschel possesses a strong personality. At times she grates on your nerves with her jagged edges, other times her edges are smooth and you appreciate her softer side. I have a better grasp of her by the end of the book, although the road was bumpy. Once you learn of her past, concerns, and there is enough presented, you understand this fiercely independent, strong woman much better.
The fact Kati is the owner of the only crime/mystery book store in Istanbul is clever. She reads so much crime she's confident she can solve local crimes of merit, and she does. Kati is so adept at sleuthing she impresses the police, in fact they quasi consult her, adding to her over abundant level of confidence.
Another interesting aspect I enjoyed, seeing Turkey through Kati's eyes. Kati is an expatriate from Germany, still adjusting to Turkish ways and people despite residing in Turkey for quite some time. Interesting to learn the intricacies of Turkey along with Kati as well as her comparisons of Germany vs. Turkey.
Mild mystery filled with numerous and electric characters. A few surprises along the way to solving the murder. I was off base as to the culprit, which was welcomed. Not until the very very end did all the pieces come together. Kati and Fofo will entertain you both on and off the case. Given Turkish is a difficult language to translate I found the translation strong. I still wish I could read every language to fully experience each story in their original tongue.
This is the third book in a series. I have not read the previous books, however it did not deter from my reading experience. This book is fine as a standalone, although bits and pieces of the previous books are scattered throughout the narrative gleaning enough insight into previous exploits protagonist has been involved in.
Francois Von Hurter