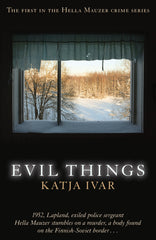 "I read it in one sitting. It's thrilling." Cecilia Ekbäck, author of Wolf Winter.
"This is a remarkable debut — the best novel I've read this year. A historical thriller with a heart that keeps you enthralled to the final page."  David Young, author of A Darker State and STASI Child, both part of the Oberleutnant Karin Mueller series.
"A memorable character with just the right disdain for authority and its amoral attitudes to justice and women." Maxim Jakubowski, author of The Louisiana Republic.
Read more