The Man in the Corduroy Suit REVIEWS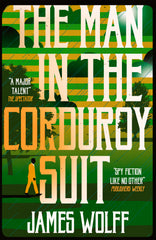 "Leonard Flood, the protagonist of James Wolff's novel "The Man in the Corduroy Suit," is an MI5 interrogation specialist. Dubbed the "rat-catcher" by colleagues, Flood forces traitors to talk through "sheer bloody-minded persistence." He's perfect for the secret cadre of officers known as the "Gatekeepers": spies who spy on fellow spies. The rat-catcher's new assignment: investigate the poisoning of recently retired officer Willa Karlsson. Was this assassination attempt carried out by Russians? Was Karlsson a Moscow agent? Flood is given a mere two weeks to find answers. When his deadline is abruptly cut in half, he gets an assistant, Franny, a fellow Gatekeeper unafraid to speak statistical truth to operational power: "You say I've got faith in data. But you've got faith in character. That's much more irrational."The two discover that Karlsson was in the habit of taking covert train trips to a remote district. They deduce her destination: a hotel where, in the guise of a limping old lady, she sat and painted landscapes. What was she up to? And why does Flood get the sense that higher-ups doubt his own loyalty? Confronted with this accusation, his boss cuffs it aside: "You think I don't trust you? Of course I don't trust you—I don't trust anyone. That's my job.""The Man in the Corduroy Suit" reads like a classic spy story shaped by what Graham Greene called the "human factor." It's also a warning against losing one's perspective in the intelligence world's infinity of mirrors. Best enjoy this whimsical, inventive and shape-shifting book as it comes." Wall Street Journal
STARRED REVIEW: "The brilliant final entry in Wolff's Discipline Files trilogy (after 2021's How to Betray Your Country) is another clever, twisty treat for espionage fans. Leonard Flood has gained a reputation as a dogged interrogator for MI5, and his skills have brought him to the attention of Charles Remnant, who heads a "secret cadre of officers" known as the Gatekeepers, who, in addition to their official duties, spy on the spies in their own department. Remnant taps Flood to help determine the loyalties of Willa Karlsson, who resigned the previous year after vetting candidates for the spy agency for decades, including Flood himself; she's been poisoned and is recovering in the hospital. Given a spate of recent episodes that have hit MI5 with what Remnant terms "turbulence," the officer fears there may be rot inside the service. Flood agrees to probe Karlsson's activities, which turns up one surprise after another and leaves him questioning the loyalties of more than one colleague. Wolff is particularly good at making his lead, who could have been a colorless figure in lesser hands, sympathetic, and delivers some truly knockout twists. John le Carré admirers will be hungry for more." ---Publishers Weekly
TIMES: BEST THRILLERS OF MAY: "More pangs of conscience in James Wolff's third, characteristically sophisticated spy novel. As their collective title, The Discipline Files, implies, Wolff's interest is in what happens when spooks have had enough of the job's constraints. As with Mick Herron, his intent is to subvert the politics of bureaucracy. The eponymous man in the corduroy suit is the hitherto dedicated interrogator Leonard Flood, who is ordered to discover if a retired vetting officer, Willa Karlsson, was a Soviet mole. Yet the deeper he digs, the more he comes to believe it is he who is really under suspicion, and to sympathise with Karlsson. The human factor is at work — like some notable names in the genre, Wolff has direct experience of the intelligence world — and farce might be the most appropriate description of the contortions required by espionage. Forgive us our foolish ways, Wolff may be saying, but what should we do when even the gatekeepers lose their sense of perspective?"----The Times
Financial Times Best New Thrillers in May: "James Wolff's first two books were international thrillers set in the Levant and Istanbul. The Man in the Corduroy Suit unfolds in London and the decidedly less exotic Diss, Norfolk. MI5's Leonard Flood is on the trail of a retired colleague who seems to have been poisoned by the Russians — and disaster beckons for the security service. A slower pace and the domestic focus foster strong character development in this absorbing tale. Flood's poignant attempts to connect with his female colleague Franny eloquently illustrate the emotional isolation of the spy's inner life. "---Financial Times
"James Wolff's prior espionage novels, "Beside the Syrian Sea" (2018) and "How to Betray Your Country" (2021) — the first two novels in his Discipline Files trilogy — were very good but not top-tier. However, THE MAN IN THE CORDUROY SUIT, the last book in the trilogy, establishes him as a memorable voice in the genre. This status elevation owes much to Wolff's latest creation, the MI5 officer Leonard Flood, whose manner is brusque and rude (a superior once noted his "impressive ability to kneel on the bruise," while another said he was "definitely not a charmer"). An outsize personality is required for the investigation he's tasked with, which involves spying on other spies suspected of working for the Russians, particularly a recently retired operative who may or may not have been poisoned. It comes down to a single question, one with no easy answer: Who is worth the loyalty that people — and governments — extend?  "Some spies are all about warmth, others are a blast of cold Arctic air." The same description applies equally to Wolff's prose, all sharp edges and abrupt surprises, keeping the reader in a state of edgy discomfort." ---New York Times
"James Wolff's unique sequence of espionage novels continues with THE MAN IN THE CORDUROY SUIT (Bitter Lemon Press, £9.99), and this one has an even more unusual premise than its predecessors. Leonard Flood is viewed by his colleagues as an unclubbable oddity, though he is extraordinarily good at identifying traitors. But his latest case is a puzzling one, forcing him to face an uncomfortable question: could Leonard himself be the double agent he's looking for? With a precision in his use of language suggestive of a poet who sidelines as a surgeon, Wolff manages to create books that appeal to those who love spy stories and to those who loathe them." ---Morning Star
"James Wolff's The Man in the Corduroy Suit is a welcome alternative to so much of the spy fiction with its addiction to violence and/or, as with the latest James Naughtie I recently reviewed, simply poor writing. Suspicion is a key theme, as well as the potentially closing consequences of personality:
'The flat smells of a thousand cigarettes. Years of suspicion and paranoia cover the walls like layers of old paper…We only exist as children, and spend the rest of our lives performing the same loop, like birds alongside a train, and we are wounded in the same place, and we crash to the ground again and again with the same banal finality. The only thing that changes is the patch of ground.'
There is an element of Mike Herron's Slough House series, but also a degree, particularly toward the close, of magic realism. An effective and very readable account of tensions and suspicion within MI5, with a plot full of impressive reveals and some questions." ---The Critic
"James Wolff writes a different kind of spy novel. His British intelligence agents are renegades. Jonas Worth and August Drummond, the protagonists of Beside the Syrian Sea and How to Betray Your Country, respectively, both found themselves at odds with their bureaucracies. Wolff's storytelling skills are such that you adopt these oddball characters and want them to succeed, despite the parallel need for the system to function. There's no formula in Wolff's stories, each is a plunge into the unknown. In the third book in the series, The Man in the Corduroy Suit, we meet Leonard Flood, a spy with acquired a reputation for being blunt and prickly. If he comes up short on social skills, he's also known as a relentless questioner, an interviewer who through sheer persistence can pry information out of a subject. Or an unwilling colleague. In other words, he can be a pain in the neck. Wolff draws Leonard's personality with an artist's eye for the telling detail, including the corduroy suit Leonard favours, irrespective of weather.
You may be reminded of Mick Herron's Slough House series. The difference is that, flawed though Herron's characters are, they do form something of a team. And they can hold it together to resolve a problem. Wolff's characters are skating out onto the thin ice mostly alone and the problems to be solved are, if not wholly of their own making, not societal ones, but specific to them. Like Herron, Wolff has a finely-honed ability to skewer the absurdities of bureaucratic life and the foibles of his oh-so-human characters. As an example, you learn that a principal preoccupation of one high official, Charles Remnant, is getting himself of the list for Queen's Honours. Remnant, head of an MI5 unit called Gatekeeping that covertly investigates the agency's own personnel, asks Flood to look into the activities of retired officer Willa Karlsson, who has been struck down by a mysterious illness. Alarmingly, she seems to have been the victim of some hard-to-detect Russian poison. For many years, Karlsson vetted new recruits, including Flood. As Remnant is quick to point out, she also vetted intelligence analyst Jonas Worth and agent-runner August Drummond from the previous books. Those episodes still sting, and management is concerned. How many other dodgy personnel did she approve? Was she on a deliberate campaign to undermine the agency? Did she approve people whose personal weaknesses would make them vulnerable to threats or recruitment by rival spy agencies? In short, how many bad apples are out there?
Flood isn't afforded much time to figure it out. To help, they've assigned him an assistant called Franny. Though Flood prefers being a lone wolf he has no choice but to take her on and, with her computer skills, Franny is quickly proves her worth. The morsels of information they discover lead them to travel to a small inn in Norfolk, which they soon establish is where Karlsson stayed on her infrequent trips out of the city. There, they believe, she met with her handler. Wolff's rendition of the old inn and its carefully tended gardens seems an unlikely environment for espionage. On the other hand, maybe it's the perfect setting.Flood and Franny assemble an admirably coherent theory for Remnant, consistent with the facts and clues at their disposal. You may be convinced they're correct, but it turns out that Flood, suddenly, is not. He sees an entirely different way to assemble the information, which throws the whole situation into a new light. 
From there on, the atmosphere of the story darkens, and you can't be sure whom Flood should trust or what he can risk taking for granted. At a time when, in real life, someone has apparently let loose into the world a large cache of international intelligence, this book can make you think hard about whether you ever do or can know enough about the people called upon to protect a nation's closest secrets. While I won't go into specifics about the ending, it's one of those satisfyingly unexpected but well laid out scenarios, much like one the late John le Carré might devise. I thoroughly enjoyed this cerebral book – the quirky personalities, the clever plot, the sly tone. Although even Flood doesn't figure out Willa Karlsson's motive, I suspect you will."----CrimeFictionLover
Author Note for The Man in the Corduroy Suit
Picture the MI5 archives, if you will – a gloomy, dusty catacomb devoted to the interment of a hundred years' worth of classified documents. In the corner, a locked door, because although everything down here is secret, the contents of this room are really secret. A sign on the door reads THE DISCIPLINE FILES. Inside, there is clearly more material than anyone ever anticipated. Shelves are buckling, cardboard boxes spilling their contents onto the floor. Because they have a discipline problem, our spies, or so recent history would suggest. 
In Beside the Syrian Sea, an analyst steals hundreds of stolen documents and resurfaces in Beirut, desperate to negotiate for the release of his kidnapped father… 
In How to Betray Your Country, a disgraced agent-runner in emotional free fall tries to build a new life in Istanbul, only to stumble across a mysterious Islamic State figure who is not quite what he seems… 
In The Man in the Corduroy Suit, a talented interrogator looks into the suspected poisoning of a retired colleague, but a startling discovery forces him to choose between obeying his masters or his own conscience… 
Three stand-alone stories, three spies, one very serious problem. In this day and age, with the meaning of duty, tradition and loyalty increasingly open to interpretation, how do you make sure your spies do what they're told? And what do you do when they don't?
Francois Von Hurter