Reviews Three Drops of Blood and a Cloud of Cocaine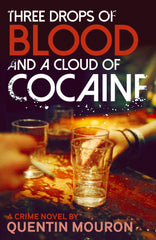 New York Journal of Books:
"Three Drops of Blood and a Cloud of Cocaine is Quentin Mouron's English-language debut, and what a debut it is." Night has fallen quietly on Watertown, Massachusetts, and Jimmy Henderson, a 70-year-old retiree, is sitting in his black Ford pickup on the corner of Parker and Mount Auburn, relishing his last slice of pizza from the box. Apart from the usual garbage strewn inside the pickup, nothing is remarkable with the exception of a "hunting" gun—a Winchester 12 pump-action shotgun—leaning conspicuously against the dash.
From his rearview mirror, Jimmy is keeping his eyes firmly focused on the one-time First Baptist Church building, now converted into mid-range apartments that are much coveted by neighborhood families.
After some time slips by, Jimmy decides he has seen enough for tonight, flicks on the vehicle's headlights, and is about to drive off when he notices the figure of a man walking toward Mount Auburn from the end of Parker Street. Jimmy figures he isn't the sort of man you expect to come across in Watertown: too impeccably dressed. Jimmy figures him for about thirtyish, good-looking with thick black hair. As the man comes closer, a glint of recognition flickers in Jimmy's eyes. Or is that fear?
"Good evening," stammers Jimmy. The man gives a slight bow. And much more.
Within a deadly flash of life, Jimmy has been mutilated, eyes slashed, cheeks gashed up to the ears, and tongue sliced off, all in a caustic air of unanticipated irony: the last slice of pizza consumed minutes ago really would turn out to be Jimmy's last.
The town's sheriff, Paul McCarthy, soon takes charge of the murder investigation. McCarthy had known Jimmy for over 30 years as a neighbor, and is shocked by the ferociousness of the slaughter.
Puzzlingly, an initial search of the pickup reveals that nothing seems to have been stolen:
"Why? For pity's sake, why? The sheriff is wondering about the wallet found in old Jim's jacket, his hunting rifle and ammunition, the truck with the keys in the ignition. Why hadn't the killer taken anything? It can't have been he was in a hurry or that he panicked, as he stayed around long enough to mutilate the corpse. No, if he didn't steal anything it was because he didn't need to, because it didn't interest him. Well then, wonders McCarthy, what does interest you, you sonofabitch?"
So robbery is ruled out—for now, at least. However, despite no motive clearly emerging, there is a suspect: Alexander Marshall, a local drug dealer and thug with a penchant for violence against women, who also just happens to have attempted murder on his curriculum vitae of crimes.
At one time, Marshall lived with Henderson's daughter, Laura. While living in the house, he sexually abused Laura's young daughter. Talk on the street was that Jimmy was gunning for Marshall, but had Marshall turned the tables and got in first? Possibly and very likely, thinks McCarthy who could easily set up the pervert for what he did to the child. However, that is not McCarthy's modus operandi, preferring the book of law to take its course for justice.
With old-fashion but relentless police work, McCarty is soon picking up little breadcrumbs of clues. However, worryingly for him, the more clues he finds, the darker and bloodier the case and crumbs start to become.
Into this murderous mix of a nightmare, comes the mysterious enigmatic young private investigator Franck, allegedly visiting from New York.
McCarthy's a church-going, much-loved family man with wife and kids. He desperately tries walking a precarious tightrope of keeping a boundary between the sordidness of his investigations and his private life. He is also a man trying to keep faith in human nature and the order that should prevail in the world.
But Franck is a different sort of breed, a man always rushing to the bathroom for another line of coke, reveling in the darker workings of the case. And what is his real reason for being in Watertown? When the two men finally meet the entire existence of the sheriff as a righteous family man—and probably as a police officer—will be turned on its head, as he begins to question his very sanity.
Three Drops of Blood and a Cloud of Cocaine is Quentin Mouron's English-language debut, and what a debut it is. Disturbingly violent, yet never gratuitous, it is perfectly balanced with wondrous prose and original one-liners. Mouron has created a truly memorable character in Franck, who is anything but the archetypical PI. No, he is something special. Very special indeed. Think Anton Chigurh, Cormack McCarthy's frightening psychopathic killer from No Country for Old Men, but with dark, sinister humor added to his psyche. If he's not in the next Mouron novel, it would be a crime. 
CrimeReview:
This is an unusual book which defies several of the conventions of the crime genre. It begins in a fairly straightforward manner, in the present tense throughout. A man sitting in a car on a Boston street is approached by a stranger. Not so far away McCarthy, the local sheriff, is attending a piano recital, in the company of Franck, a visiting detective. McCarthy is called in when the man in the car, Henderson, is found dead, his throat cut, with further mutilations post-mortem.

McCarthy proceeds to deal with the crime as you would expect and soon has a man in custody, although there are doubts as to his guilt. A possible drug connection attracts the interest of Sergeant Wilde, a federal man, and there is the typical friction between the two agencies. The author introduces Le Carre, a key figure in the local drug trade, providing clues as to the motive behind the killing.

Intervening passages dealing with Franck, however, take on a bizarre note. Franck expresses scorn on the general opinion that the manner of Henderson's death is horrific, and takes the matter as a mildly interesting joke. We are in the first few pages introduced to the contents of Franck's suitcase, which include weaponry as well as means of indulging his decadent tastes, including a quantity of cocaine to which he has frequent resort.

And as we are given more information about McCarthy it becomes clear that he too is not entirely what he appears to be on the surface. Hidden under a pattern of rectitude and regular habits is a man weighed down by the crime he has to deal with on a day-to-day basis, worried by an apparent slide into anarchy and terrified that he may be unable to protect his family from the multiple threats of an increasingly violent society. As the book progresses, the behaviour of both men becomes increasingly bizarre, Franck combining business with pleasure in apparently random violence, and the sheriff eventually coming together with Franck in an orgy of everything he seemed to stand against.

The game-playing and philosophical aspects are foreshadowed by the Dostoevsky quotes which begin the book, and extensive quotations from a work by Peladan, which Franck is fond of dipping into. In a later passage, Franck speculates about himself as a literary character. All this is likely to be a great source of amusement to those who like intellectual jokes, and given the number of ways the reader's expectations are foiled, it is all done very well.
Publishers Weekly:
Mouron makes his English-language debut with a knife-edged noir set in Watertown, Mass., which combines spare prose with a compelling murder mystery plot. Sheriff Paul McCarthy must deal with an unusual homicide; his decades-long casual acquaintance, Jimmy Henderson, has had his throat cut while sitting in his pickup truck on a quiet street one night. Beforehand, the killer slashed Henderson's eyes, cut out his tongue, and gashed his cheeks. Nothing was stolen, and there seems to be no motive for the killing and the subsequent butchery. There is, however, an obvious suspect—drug dealer Alexander Marshall, a local ne'er-do-well with a record for attempted homicide, who shacked up with Henderson's daughter, Laura, and sexually abused her child. But McCarthy is unwilling to settle for an easy answer to the case. Cornell Woolrich readers will recognize Mouron's portrayals of "simple folk, disturbed by life," who "commit only rational murders, justified by drunkenness or necessity and tempered by tears and regrets." 
Crime Chronicle:
Franck is a detective and a half glass empty man.  This hedonistic and jaded jeremiad wants a world where people are interesting, authentic, beautiful and original, something that will make his next precious breath worthwhile.  Inevitably, the human race disappoints him.  Franck being human needs his compensations.  The cloud of cocaine referred to in the book title is mainly around Franck.  This latest thriller from Bitter Lemon Press is top drawer.  The book is original and formidable.  Not everything in Three Drops Of Blood And A Cloud Of Cocaine is flawless.  Although it contains a fabulous surprise the scene in the art gallery is over-extended.  The final seduction between the responsible puritan and amoral pleasure seeker feels glib and unconvincing.  The rest of the book, though, is fabulous.  Fans of the horror genre expect at least two spine tingles from a story or film.  Crime fiction should provide two mouth-dropping plot twists.  Three Drops Of Blood And A Cloud Of Cocaine has them.
Ambitious crime fiction tends to rely on the thriller format when it tilts towards literary appeal.  Three Drops Of Blood And A Cloud Of Cocaine, though, is centred on the mysterious murder of old Jimmy Henderson. The book has an Ed McBain type puzzle.  To dazzle with invention and style in this format is no small achievement.  The clues that confuse represent both mundane ambition and inhibited perversity.  The plot resists familiar mechanisms, and the prose has plenty of style.  The translation by W. Donald Wilson is superb.  The book is a pleasure to read.  The humour is dark and essential to the confusion but is not overdone.  Gangster Le Carré mixes worlds and deserves to be bewildered. 
Franck meets a novelist called James Ellsor.  Crime fans will recognise the sly reference to a famous but overbearing author.
Franck is a fabulous character.  His self-centred hedonism he pursues with the purist dedication of a Zen Buddhist.  It is tempting to think of the book as a mix of dark Patricia Highsmith and a twisted Zen And The Art Of Motorcycle Maintenance.  Franck is as memorable as anti-heroes Tom Ripley and Anton Chigurh.  Not that Three Drops Of Blood And A Cloud Of Cocaine is a one-man show.   Like Cormack McCarthy, author Quentin Mouron has the ability to create a distinct character in a couple of sentences.  He mixes dilettantes, aesthetes, celebrities, down to earth policemen and low life criminals in a tale that surprises and pretends to wander.  Franck has contempt for everyone.  He also has a temper but then the man does have standards. Author Mouron is also good about things.  He persuades us that the world we inhabit is inherited rather than invented.  The opening description of the pick-up truck of victim Jimmy Henderson mixes precise detail and is first class.   
The Book Bag:
Paul McCarthy is a man of simple pleasures; Sheriff in a small town, a good husband father and neighbour, he moves through life buoyed by his faith, in both God and justice. The brutal murder of old Jimmy Henderson rocks this simple man's tenuously ordered life and drags him to the edge of the abyss. McCarthy is tasked with leading a fractured investigation whilst managing his own soul-searching questions about morality and the nature of existence. Into this quagmire steps Franck, a private detective with a shadowy agenda, a raging cocaine habit and a twisted sense of morality. As McCarthy tries to solve this apparently motiveless crime, Franck acts as a perverse Jiminy Cricket, dripping immorality and depravity into his ear with a kiss and a wink.
Throughout this novel, the theme of morality is ubiquitous, from the upstanding moral code which guides Paul McCarthy to the warped moral compass of Franck. Both men are led by their own code of ethics, although these morals are vastly different. The tension between Franck's vice and Paul's virtue builds to a lurid, iniquitous conclusion and sees McCarthy refer to Franck's recitation of a nihilistic text as being Like an organ, but better, much better than in church…, a statement which gave me a pang of heartbreak, its innocence at odds with the hellish scene of corruption and vice. This demonstrates the strength of Mouron's writing and Wilson's excellent translation - although the narrative is dreamy and the story less than typical, the characters are still human enough for readers to feel real emotion about the debasement of McCarthy, a moral beacon throughout the story brought to his knees by violence and sin. The lasting effect of wickedness is hard to shake off and we are left in no doubt that the world can be dark and full of malice.
Three Drops of Blood and a Cloud of Cocaine is, from its very title, a different spin on the traditional crime story. The fact that Mouron is a French author writing about small town America gives a quirky tone to the story and is a delightful departure from the saturated market of police and crime fiction. His eloquence and lyrical style adds interest and warmth and ensures the story never feels formulaic. The characters are vivid enough to capture your interest but vague enough to allow for the reader to identify with them, even Franck who is a decidedly decadent dandy. The story moves quickly and draws you in and could easily be read in one sitting. Whilst it is clearly a crime story, it is so much more than that; a tale about the price of justice and the tenuous façade of faith in a cruel and senseless world. 
Three Drops of Blood and a Cloud of Cocaine gets wonderful review from Turnaround: 
Three Drops of Blood and a Cloud of Cocaine really is something else. The writing is terse and witty, the pacing immaculate and the books' atmosphere extraordinary. The plot purports to be based around the murder (and the solving of the murder) of Jim Henderson, who is found dead and mutilated in his pick-up truck. But the real heart of narrative is its descent into the minds of Paul McCarthy, local sheriff and a family man, and Franck, a private detective from New York.
Franck is a deeply complex and at times unfathomably motivated character who, for me, resembles American Psycho's Patrick Bateman. As a protagonist he makes this book utterly compelling, playful and quite, quite frightening – he frequently quotes philosophy or literature (mostly Joséphin Péladan) and has a penchant for puns, mind games, metafictional reflection and the darkest of dark humour. 
Mankind may be ugly, and pitiful, but there's no denying that there's something comical about it! 
He is an unusual hero, even for the crime genre, but more often than not I found myself more interested in what Franck might do next than who the murderer was – he is the undoubted star of the novel. However I do have a soft spot too for Sheriff McCarthy, the more traditional (in all senses) lawman. Whilst not a sensational character, like Franck, he is surprisingly profound at times; he takes both his job and his family life seriously but struggles to reconcile them and there's real torment in his thoughts and actions:
He is especially apprehensive of these silent hours when the abysses of insanity and alcoholism begin to open up yet again beneath his feet. They devoured his parents. He knows they threaten him as well. My life, he sometimes tells himself, is basically a struggle against my own leaning toward disorder, my own heredity. The drug dealing, the organized crime, are secondary. The neatly trimmed hedge, the mailbox, and the shiny floor are a valid defense, but there are times when this approach no longer seems adequate. 
Quentin Mouron is a writer who is assiduously self-aware. As well as Franck's reading habits and artistic sensibilities, Mouron treats the reader to a healthy smattering of Dostoevsky, Georg Lukács, Maurice Blanchot and Witold Grombrowicz. His own evident knowledge of crime literature enables him to expertly manipulate the genre conventions, to great effect. Franck is as cognisant as his author and delights in shocking whatever company he finds himself in with his opinions and knowledge. During a dinner party discussion about the murder, he scandalises his new acquaintance by asking: 
"It's wrong to kill your neighbor?"
"Do you find that ridiculous?"
"No, I find it charming. It's just that I think there are certain people you can kill."
Now, I obviously can't talk about the ending – although I really want to! – but, just when you think things have wrapped up rather nicely, it comes clanging down upon you and is every bit as trippy and hilarious as it is mind-blowing. All I can say (except what I just said) is that, after that exit, I really hope Franck returns for a sequel…
MBR:
When old Jimmy Henderson is found murdered in his Ford pick-up truck in a suburb of Boston, Sheriff Paul McCarthy takes charge of the investigation. Soon, Franck, a young private detective visiting from New York, also takes an interest in the case. Sheriff McCarthy, a church-going man, desperately trying to keep a boundary between the sordidness of his investigations and his private life. And Franck, a violent, decadent dandy, always rushing to the bathroom for another line of coke, revealing the darker workings of the case with a blood curdling laugh. When the two men finally meet the entire existence of the sheriff as a righteous family man (and probably as a police officer) will be turned on its head. Author Quentin Mouron's debut as a crime novel author, "Three Drops of Blood and a Cloud of Cocaine" is a darkly humorous literary and psychological mystery set in a Boston still suffering from the consequences of the financial crisis. Breaking the conventions of the crime novel genre, "Three Drops of Blood and a Cloud of Cocaine" holds a satirical mirror to our society by entering the minds of two men right on the edge of sanity. A unique, entertaining, and compelling read from cover to cover, "Three Drops of Blood and a Cloud of Cocaine" is unreservedly recommended, especially for community library Mystery/Suspense collections. It should be noted for personal reading lists that "Three Drops of Blood and a Cloud of Cocaine" is also available in a digital book format (Kindle, $9.99). MBR
Francois Von Hurter