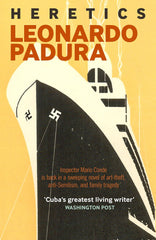 Times Literary Supplement:
Leonardo Padura's quartet of crime novels featuring the detective Mario Conde, a lover of books and cognac, amounted to portraits of Cuban society in the Fidel Castro era. Now he sends his sleuth into the grim world of contemporary Havana, where Conde is using his skills in tracing rare books for sale to foreign collectors, bringing him into contact with the impoverished Cuban aristocracy and literati. In this louche world he is on the trail of a commission for a wealthy book­lover when he uncovers the history of the island's Jewish community. Heretics takes us on a journey through their past, beginning with the shameful incident in 1939 of the MS St. Louis, whose Jewish passengers were refused permission to disembark in Havana. One boy managed to escape ashore, and Conde discovers the papers of the boy's European ancestor, Elias Kaminsky, who was a studio assistant to Rembrandt and may have been the sitter for a portrait passed down through the family. Refusing to abide by the strict Jewish condemnation of image ­making, Kaminsky was outcast as a heretic by the Jewish community in Amsterdam and forced to flee to Poland, where pogroms would await his family, then the cattle trucks and camps. The descriptions are hard to read, though Padura makes his excerpts mercifully brief. Through all these vicissitudes, however, runs the story of the missing Rembrandt portrait, which Conde succeeds in tracing through his detective skills.
Padura has a special skill in evoking urban life: he refuses to immure himself from humanity and has described his delight in walking through the streets of Havana, observing its life and making the city a character in his fiction. After the loss of Russian investment, Conde finds Havana in extreme poverty, as its citizens slide into drugs and alcohol.Yet, as he contemplates a reproduction of the Rembrandt portrait, Conde understands "the invincible power of art", and that the only thing that finally matters is having the freedom of choice. The new owner of the painting must be free to sell it or to give it to a museum. Heretics must be free to believe or reject doctrines. This is a rich and powerful novel which has turned the crime­ fiction formula into a deeply disturbing creation. TLS
Guardian:
The Cuban Leonardo Padura's reputation is ironclad, and if you need reminding why, pick up Heretics (Bitter Lemon, £12.99, translated by Anna Kushner) – although those seeking a linear crime scenario may be nonplussed by the book's jostling between the modern day and 17th-century Amsterdam. Bibulous sleuth Mario Conde is now a secondhand book dealer, but becomes entangled in a mystery involving a Rembrandt portrait and his grandparents, who fled from Nazi Germany but were not allowed into Cuba. It's as much an astringent picture of Padura's own society as a crime fiction outing. 
Library Journal:
Celebrated Cuban author Padura's many works include the much-translated Havana tales starring detective Mario Conde. But though Conde appears here, this splendid saga is much more than a mystery. As the doomed St. Louis sails into Havana's harbor in 1939, carrying Jews seeking asylum, a Polish Jewish boy named Daniel Kaminsky stands on the dock, awaiting his parents and sister with his uncle Joseph ("Pepe the Purseman"). The Kaminskys hope to secure their freedom with a family treasure, a small Rembrandt of Christ, but Cuban corruption combines with U.S. and Canadian indifference to return the ship's passengers to their doom. Decades later, Daniel's American son Elias travels to Havana, asking Conde's help in tracing the history of the painting, now mysteriously up for auction. VERDICT The intensive, richly detailed narrative is at once a portrait of Daniel's Cuban upbringing, a meditation on anti-Semitism, and an intriguing account of the painting. What did the Cuban police know, and was a murder involved? Highly recommended.   
Booklist:
This is a large, very complicated, but readable and entertaining novel by a highly regarded Cuban novelist,author of the Havana Quartet, featuring the introspective detective Mario Conde. As he did in The Man Who Loved Dogs (2014), about the murder of Trotsky, Padura masterfully blends fact and imagination in this tale of a Polish Jew, Daniel Kaminsky. Born in Poland in 1939, Daniel is nine when he lands in Havana with his father, mother, sister, and more than 900 other Jewish refugees. The ship is refused permission to land, but the Kaminskys disappear. Fast-forward 70 years to Daniel's son, in Cuba to unravel the mystery of a Rembrandt painting, supposedly carried by his grandparents to Havana, that has now turned up for auction in London. The tale also moves further back to the time of Rembrandt living in Holland. The novel is presented in separate sections, divided in time, but ultimately they all coalesce brilliantly. This is much less of a mainstream crime novel than the earlier Mario Conde tales, but the detective does eventually solve the mystery, though the solution is shrouded in ambiguity.
Padura deftly handles complex issues of Jewish identity in Cuba, as well as Cuban identity on the island before and after Batista and in Miami; ultimately, he encompasses the whole richness of modern Cuban and Jewish history. This is a major novel and a testament to Padura's stature as a writer. 
Times:
Leonardo Padura's rum-soaked, chain-smoking detective Mario Conde has always been an uncompromising advocate of personal liberty. In the Cuban author's excellent Havana Quartet of crime novels, and the follow-up, Havana Fever, the wilful policeman turned second-hand bookseller has reliably ploughed his own gruff furrow as he has delved into the most pungent corners of Cuba's capital. However, in Heretics, Conde's latest outing, the importance of choosing your own life is the dominant theme in a multistranded tale.
"To be a heretic," we're told, is colloquial Cuban Spanish to describe a difficult situation, "especially in political or economic aspects". In that respect, it's Conde's permanent state of existence, as he scrapes along with a select group of friends, fellow "survivors" of the revolution and Cuba's subsequent crises.
Heretics starts conventionally enough; Conde is approached by an American, Elias Kaminsky, in search of the story behind a Rembrandt portrait that has shown up in a London auction house. Elias's Polish-Jewish grandparents had carried that painting, a family heirloom, on their flight from Nazi Germany on board the (real-life) MS Saint Louis in 1939.
When the ocean liner was refused entry to Cuba, and was forced to return its 900 refugees to Europe and certain death, the painting didn't go with them. Elias will pay Conde handsomely to find out what happened — and Padura toggles between mid-20th-century Havana and the modern-day city to show us.
Then things take a turn for the unexpected. The middle section is a lengthy digression to 17th-century Amsterdam, to the workshop of Rembrandt and the story of how the Kaminskys' painting was created. Elias Ambrosius, a young Jewish boy with a passion and talent for art, wants to become an apprentice of the master painter, even though depictions of human beings and animals are proscribed by his faith. In this tolerant city, known as New Jerusalem, he believes he can find a way to realise his heretical dream. However, when Rembrandt uses Elias as his model for Christ for his Supper at Emmaus, Elias's own community has different ideas.
For the third section, we're back in contemporary Cuba, where Conde is asked to find a missing girl. Judy Torres is an 18-year-old emo kid, one of the young Cubans who "want to be what they decide to be . . . in this country where people are continually ordered about". Judy's nonconformist desires had led her to Nietzsche, Nirvana, Blade Runner and self-harming. Conde becomes intrigued with her battle to define herself, maybe because it chimes with his own philosophy.
He, meanwhile, is tussling with the idea of marriage and the crushing conventionality that would introduce into his ramshackle life. For a last flourish, Padura throws in an account of the brutal anti-Jewish pogroms carried out in Poland in the 1600s.
Padura, probably Cuba's best-known writer, takes a Walter Mosley/James Sallis approach to crime fiction: the deeds themselves can almost seem incidental to what they reveal to his philosophical detective about society's ills.
There are links (albeit sometimes tenuous) between the four sections, but it makes for a giddy reading experience to be catapulted between such different worlds. Rembrandt's Amsterdam is like a delicate, detailed miniature framed and held apart from messy modern reality. It's definitely not your typical crime novel; it's also sometimes a struggle to keep up with the often rococo prose style — one character's "ethylic excesses", another's "epidermic pallor", all faithfully translated by Anna Kushner. And yet the book's sheer cussed refusal to conform, and Conde's crabby charms, chime so well with its central concern that you can't help finding the whole thing oddly appealing.


Crime Review:
Retired Cuban detective Mario Conde's help is sought by New York painter Elias Kaminsky, whose father Daniel was at Havana docks in 1939 to meet his parents and sister, arriving on the liner Saint Louis. The primarily Jewish passengers were infamously refused landing rights and the boat sailed back to Europe. In a bid to land, Daniel's father bartered a small Rembrandt portrait, but the recipient never delivered on his side of the bargain.
In 2007, the Rembrandt has shown up in London, and Elias is seeking to uncover the path of the stolen artwork in the intervening period to substantiate his claim to its return. A complication is that Mejias, the customs official who is thought initially to have had the painting, was murdered in 1958, shortly before Daniel left Cuba for the US. Who killed Mejias is not known, although several people believe it was Daniel himself. Supposedly the painting was stolen at that time, and has not been seen since.
With the case seemingly stalled, the book moves focus to Amsterdam, 1645. A young Jew, Elias Kaminsky, is impelled to seek lessons from Rembrandt van Rijn, despite a prohibition by his tribe on human representations. He attains a high level of skill and his master's regard, but is denounced by his orthodox fanatic brother and condemned as a heretic, ending up in Poland during a terrible time for the Jews.
The book returns to Cuba, where another enquiry helps Conde achieve a breakthrough. Troubled 18-year-old Judy has disappeared, and her friend Yadine implores Conde to help find her. The girls are emos and part of a group which embrace indifference and despair in reaction to the loss of freedom they experience. Eventually Conde is brought into contact with a family with artwork which looks familiar, and is able to help Elias recover the painting that is so important to him.
The book creates a believable and interesting picture of two very different societies. In Cuba the communist dream has evaporated and scepticism about politics exceeds that of even Europe. The young espouse crank philosophies in the face of a bleak future, and adults scratch about for a bare living, although an essential love of life, friends and partying comes through. Mid-17th century Amsterdam could not be more different, you would think, but many of the same issues emerge.
At 550 pages, this is a book that calls for some commitment, especially as the author favours long sentences with plenty of subordinate clauses, and the translation is sometimes a little clunky. But there is no doubt that this is a substantial piece of work, blending into a detective story the author's investigation of the nature of belief and heresy, the necessity for individual freedom and the importance of friendships. 
Maxim Jakubowski:
An epic, ambitious novel by the prominent Cuban thriller writer Leonardo Padura which brings back his eponymous hero Mario Conde but also delivers so much more to the table. Beginning with the arrival on a fated boat of a Jewish family, fleeing the coming cloud of WW2, in Havana in the 1930s only to be turned back until an illegal deal is struck involving a rare Rembrandt painting of the head of Christ, the tale conflagrates in a variety of directions. The child of the family ends growing up in Cuba and many decades later engages Conde to investigate the fate of the painting. A sweeping tale of the Jewish diaspora and customs, the history of art and Amsterdam in the 17th century as well as an impeccable thriller, this is writing at top notch level combining a wealth of fascinating information and details that blend in seamlessly with the narrative where the whole ends up more striking than the individual elements. Long but eminently rewarding.
Shots:
Leonardo Padura will be in London again – next week as a matter of fact – to promote his new book Heretics (Bitter Lemon), an ambitious novel, epic in scale, which features his dog-eared detective Mario Conde – who even chain-smokes politically – not to mention his latest dog, the down-trodden Garbage II. The action flits back to 1939 Havana and then 17th century Europe, chronicling dark episodes in both Jewish and Cuban history. At the heart of the plot is a religious painting – probably a Rembrandt – the property of Jewish refugees fleeing Nazi persecution which disappeared in Havana and then surfaces in the 21st century in a London sale room. Heretics  is long (500+ pages) and broad in scope, and anchoring things in his own inimitable way  is former policeman Conde, part of that generation of Cubans forced 'to make a living clawing at the walls' – in his case as a second-hand bookseller, though one gets the impression that he is rescuing books rather than dealing in them. If I have a problem with it – and I have to admit I have – then it is with the translation, although I freely admit that my knowledge of the structure and rhythms of Spanish does not extend beyond the small print on the label of a bottle of Rioja. To me, the book seems to be 'over-translated' in the sense that a novel can be 'over-written', with some very long and very flowery paragraphs which probably make perfect sense in Spanish, but tend to falter and stall in English. Perhaps that should be 'under-translated'. Perhaps it's just me. That aside, there is much here to enthral and impress. 
Francois Von Hurter