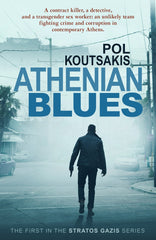 Durango Telegraph:
Athenian Blues is the first crime novel and first work translated into English by Greek writer Pol Koutsakis. Published by Bitter Lemon Press in London, Athenian Blues is a respectful 250-page romp in Athens by hit man Stratos Gazis, who has been hired by both celebrity lawyer husband and trophy actress wife to kill each other. I needn't say more, except that Carl Hiaason is surely envious of the subtlety of humor propelling the dilemma facing Gazis and his team of childhood friends: a top homicide cop; a high-class transgender sex worker; and Maria, the love of his life. Athenian Blues is not written as a comedy, but the absurdity of circumstances that pile up along with the bodies and course reversals is funny. A great little book that couldn't have been written by anyone else but Greece's most famous playwright. 
 Manhattan Book Reviews:
Sometimes the stars align and you find a real gem of a book. That's how I felt about Athenian Blues. In this tale set in Greece, we meet Stratos Gazis, who likes to refer to himself as a caretaker. He can't stand to be called a hitman. In his mind, he is providing justice for both his victims and his clients. So, when a famous actress, Aliki Stylianou, tries to hire him to kill her abusive husband, he wants to know more before taking the case. After all, her husband is one of Athens' most respected lawyers.
Things take an unexpected turn when an attempt is made on Aliki's life and she goes into hiding. Her husband wants to hire Gazis to find her. Gazis isn't sure which party to believe. Is the husband abusive and does he want to kill his wife, or is she making it all up? As the story develops and Gazis, with the help of his friends, tries to piece together the complex ties between husband and wife, he finds more questions than answers. As more secrets emerge, Gazis is more determined than ever to find Aliki. If only he'd known he would be putting himself and his closest friends in danger.
Pol Koutsakis is a fascinating storyteller able to transport readers right into Stratos Gazis' world.
RivetingReviews ELN/ Reviewed by Max Easterman:
Given the past few years of turmoil in Greece, it's surprising that there hasn't been a spate of crime novels flowing from what could easily be described as the modern cradle, not of democracy, but of economic and political anarchy (it's interesting, isn't it, that the terminology of politics is so heavily derived from Greek!). Be that as it may, Pol Koutsakis – an award-winning playwright as well as a novelist, who has also translated his book into English – has come up with a fiendishly original twist on the crime genre.
Stratos Gazis is what no doubt every Greek longs for: a problem-solver, a wand-waver who, for the right price, will make anything and everything bad disappear, so that life can resume its natural and proper course. For the average Greek, of course, the price is the catch: Gazis only works for money, big money, and what he 'makes disappear' is people: people who get in the way, disturb a good night's sleep and generally mess up one's life. 
But, being Greek, he is also contrary: a contract-killer who only takes out those he thinks are the really bad guys, a problem-solver who only takes on jobs, where he is sure the problem-makers deserve their fate, even if his clients are equally distasteful.
My potential employers have to give me a good reason…and what they say has to be confirmed by my own research…I am a caretaker with a conscience. And if I expected to find real ladies and gents to pay me to kill, I'd have to find another profession… 
There's a dash of the Philip Marlowe in Stratos Gazis: world-weary, cynical, wise-cracking – I'm a kind of social worker, except I get properly paid – but also precisely the type Marlowe would have chased, fought and cut down, even though Gazis might in the end have been the one who got away. For his great strength is not, as he puts it, talent, but method – meticulous planning, harvesting every scrap of information, and that includes on his clients as well as their intended victims…and the right back-up: from three old friends, Drag and Teri and Maria, who are, respectively, a cop, a trans-gender bisexual sex worker and the love of Gazis' life. Athos, Porthos and Aramis they are not, but they work in pretty much the same way! 
Gazis' research leads him into a tangle of lies and half-truths:
So many different versions of the truth. Almost a joke. Good liars spice their lies with truth to make them more convincing. We were dealing with some pretty bad liars.
These bad liars are a husband and wife, who see events from totally different perspectives and who each wants rid of the other…Aliki, the actor and former model, whom three out of four Greek men rate as the most desirable woman in the country, who …captures everyone around her… and who claims her husband has twice tried to kill her. And Vassilis, …one of the best-loved men in Greece. The invincible lawyer…not one bad word had been said about him…not even in the tabloids. And so Gazis, unable to decide which of them to believe, sets out in search of the truth. There's violence à-go-go, guns at his head and as people either drop like flies or just disappear, he realises ever more clearly that truth is only relative: The older you get, the more you can be really sure of just one thing: you'll never really understand people. 
Greece's economic chaos and social disruption are the backdrop to this racy story, whose twists and turns will keep you riveted to the end; to survive the turmoil, you have to be either wealthy or be able to cunningly bend the rules – or preferably both. To judge by his English translation, Pol Koutsakis must be a terrific writer in his native language. His second Stratos Gazis mystery, Baby Blue, will be published next year by Bitter Lemon. I can't wait. 
Booklist:
Sharp, methodical Stratos Gazis thinks of himself as a caretaker, someone who handles situations by eliminating evildoers. Yes, the end results and the astronomical fees he charges suggest a hit man's job description, but Stratos only takes jobs that target proven killers. When Greek supermodel Aliki begs Stratos to free her from her abusive, celebrity-attorney husband, Stratos agrees to consider taking the assignment. But, just after their meeting, a look-alike is found dead in Aliki's car, and Aliki disappears. Vassilis, Aliki's husband, also wants to hire Stratos to find Aliki and determine who has been trying to kill her. Neither story adds up, and Stratos can't extricate himself from the mess until he ferrets out the truth.
Stratos narrates with bare honesty and unexpected wit, revealing Athens' gritty side and introducing readers to his endearing and resourceful tribe of lifelong friends. Equal parts intense action, clever detection, and a compelling survival story, this makes a great match for Dan Smith's The Darkest Heart (2015) and Derek Haas' A Different Lie (2015). 
Publishers Weekly :
Koutsakis makes his English-language debut with an intriguing crime novel, his first to star Stratos Gazis, a virtuous hit man who boasts of killing only people who deserve it. Glamorous supermodel Aliki Stylianou hires Stratos to kill her jealous husband, celebrity super-lawyer Vassilis Stathopoulos, before he can murder her. Aliki claims that during their three-year marriage Vassilis has regularly beaten her, sending her to the hospital twice with fractures. When Stratos finally meets Vassilis, the lawyer offers to employ Stratos to protect his deluded wife from an unknown killer. Aided by his three best friends, including homicide detective Costas Dragas, Stratos tries to cut through the tangle of lies and delusions, while people who should be on the periphery of the case start dying violently. American film noir shaped Stratos's view of life, and Koutsakis effectively translates that half-lit, morally ambiguous milieu to seedy modern-day Athens. Noir fans will look forward to the next installment. (Apr.) 
CrimeTime:
In modern-day crisis-torn Athens, Stratos Gazis is a Caretaker or as you and I might say, a hitman. Very professional. Very cool.
In this debut appearance a glamorous and famous actress hires him to kill her husband while, separately, the husband hires him to find who wants to kill his wife. Awkward, eh? The hitman's best friend is a top cop, and they're both in love with the same woman, and their transgender friend has just found the new love of her life, and Athens is in meltdown.
This is a tasty gulp-down thriller where there are more plot-twists than courses in a hot and spicy Greek meze. After a while the table is littered with the remains of courses (aka corpses) each of which is full of flavour but, together, may be more than your digestive system can face. Or maybe I'm just sensitive.
For me, thrillers based on a ruthless amoral hero work best when their plots are clean and sparse. But if you prefer a meal with everything thrown in, you'll swallow this one with delight. It was tasty, but I'd have been happier with a kebab.  Russell James 
Kirkus Reviews:
An unlikely Athens "caretaker" meets his match when both members of an estranged couple seek his help in a domestic dispute that turns homicidal.Vassilis Stathopoulos and Aliki Stylianou are quite a pair. He's a celebrated lawyer; she's a model-turned-television actress. She claims that the bruises on her body are from the beatings he's inflicted; he claims that she cuts herself. Or maybe, just maybe, they're badges of the couple's no-boundaries sex life. The one thing the two of them agree on is that someone's trying to kill her. Aliki, convinced that that someone is her husband, wants to hire Stratos Gazis to kill him first; Vassilis wants Stratos to protect Aliki from the killer by nailing him before he succeeds. Before he can decide which client he wants to accept, Stratos, who acutely observes that "at least one of them was lying. Maybe they both were," comes upon the corpse of Elsa Dalla, an untalented supporting player on Aliki's TV show, in Aliki's BMW. Clearly these are deep waters, and it's lucky that instead of diving into them alone, Stratos has help from his old friend Costas Dragas, an Athens homicide cop, and his even older friend Teri Berikis, a transgender prostitute. The trio will need all their varied skills to get to the bottom of the unexpectedly dark secret at the heart of the case. Koutsakis' first appearance in English translation is more interested in multiplying oddball suspects than in giving them anything to do. But it's hard to resist his hero, a freelance killer who describes himself as "a kind of social worker, except I get properly paid." 
CrimeReview:
Modern-day Athenian Stratos Gazis is a hit-man for hire, or caretaker as he prefers to be called, but before he takes a contract he likes to know all the relevant facts. So when he receives a request from Aliki, one half of Greece's most glamorous couple, to kill her husband, he does some checking. For one thing, Vassilis the spouse is a top lawyer, often in the news for his high-profile cases.
Unfortunately, the case quickly becomes more complicated. Immediately after Stratos' meeting with Aliki, a woman friend and physical match through repeated facial surgery is gunned down in Aliki's car, possibly evidence that Vassilis is seeking to kill his wife, as she alleges. Vassilis, when interviewed, says that Aliki has been under the care of psychiatrists and repeatedly hospitalised for self-harming.
Stratos has two friends to help him make sense of what is going on, both companions since their school days: Teri, a transgender sex worker, and Drag, a police detective. While at first sight inevitably bound for professional conflict, their long-standing friendship enables them to find ways to be mutually supportive. Another person in their lives is Maria, Stratos' landlord and lover, with whom Drag is also in love.
Over the next few days Stratos criss-crosses Athens interviewing anyone who can help him determine the truth behind all the assertions he has been given. Amongst these are Angelino, who lives as a down-and-out in Omonia Square but has his finger on the pulse and knows stuff that the indolent police do not. Stratos gets the answers he needs very late, in a dramatic finale.
This is the first in a series starring Stratos, and presumably his friends and his way of working will follow the pattern established here. For a killer the protagonist has a surprisingly moral way of looking at things, which makes him more sympathetic than might be considered realistic. He occasionally comes out with quotes from obscure Hollywood films, from some despised anti-hero, which gives a clue as to his thinking.
He is also prone to acerbic comments about the life he sees around him: the poor motivation of the police, the 'old custom of non cooperation between the municipal and state services', the effect of the financial crisis and the unenviable lot of Bulgarian, and now North African, immigrants, all come in for cynical asides. A certain amount about local place names, and food, all add to the local colour.
The book was originally written in Greek but translated by the author, very competently. There is plenty of action and all the characters have a sense of drama about them. My only reservation is that they are a bit too exciting, like Stratos himself and his occupation, something which probably calls for a very low profile if you hope to stay active for very long. 
Library Journal:
Stratos Gazis has been officially dead for years, but the 35-year-old hit man hides in plain sight in Greece as "a caretaker." He only takes jobs in which the intended victim deserves to die. With his latest case, though, Stratos can't decide who is lying—the model who wants her wealthy husband killed, or the lawyer husband who claims he's trying to protect her. Stratos enlists his friends, including a police detective and a transgender sex worker, to help him discover the truth. If Stratos is going to take care of business, he'd better hit the right target. Like Jeffrey Siger with his "Chief Inspector Andreas Kaldis" series (Santorini Caesars), Koutsakis, a Greek novelist now living in Australia, draws on the troubled Greek economy and current political situation as background for this violent and gritty mystery. VERDICT With a narrator on the wrong side of the law who admires film noir, this dark novel will attract fans of international crime fiction with an edge. Admirers of Lawrence Block's "Hit Man" series may also want to try this book about a killer with a conscience.
Francois Von Hurter