Baghdad Central now on HULU in the US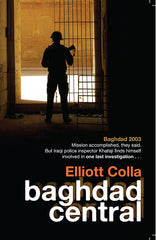 BAGHDAD CENTRAL - COMPLETE SEASON 1
Streaming Friday, March 27 only on Hulu in the US
WSJ said: "'Baghdad Central," the impossible-to-stop-watching six-part series on Hulu, is a Middle Eastern western in the "High Noon" tradition, though that hardly does it justice. Yes, there's a solitary hero with the cards stacked against him. High-stakes gambling. Even a saloon. But the setting is Baghdad during the Iraq War, where the evildoers come in a variety of not only shapes, sizes and hat colors, but ethnicities, profit motives and watery allegiances. The cultural landscape is amorphous. The evil is highly calibrated. The good is loosely defined. When you can find it."
Baghdad 2003: Saddam Hussein has been thrown out of power and US-led Coalition forces now occupy Iraq. In the midst of this chaos an Iraqi ex-policeman, Muhsin al-Khafaji (Waleed Zuaiter) who has lost his job, his home and his wife is now desperately trying to keep his sick daughter safe. 
 A case of mistaken identity sees Khafaji arrested and tortured when he comes across a British ex-police officer, Frank Temple (Bertie Carvel), who recruits him to work with him in the Green Zone.  Unbeknown to both Temple and American Military Police Captain John Parodi, played by Golden Globe-nominated Corey Stoll, Khafaji is compelled by his own, secret reasons to risk everything to collaborate with the occupying forces.
Trailer: https://hulu.app.box.com/s/1zal007b3iivt9o3n51gts0y368wzkdu
Francois Von Hurter