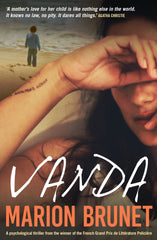 "Set in southern France, this taut psychological thriller from Brunet (Summer of Reckoning) focuses on Vanda, a would-be artist working as a cleaner in a psychiatric hospital and devoted mother to a six-year-old boy, Noé. When Vanda runs into Simon, an ex-lover who's returned home from Paris after a seven-year absence to bury his mother, Vanda reluctantly agrees to a second meeting, at which she reveals Noé is his son. The rudderless, financially comfortable Simon alternates between resenting where he grew up and nostalgia for the place he sought to escape and the mother who tried her best to provide for him, familiar instabilities he recognizes in Vanda. Fueled by the arrogant belief he can offer Noé a better life, Simon forcefully inserts himself into their lives, threatening Vanda's codependent relationship with Noé. Brunet escalates the slow boiling day-to-day class-conscious anxieties and existential dread plaguing a stressed single mom working an unstable job while ferociously trying to protect her child from the many threats in an indifferent world. This heart-wrenching slice of social realism will resonate with many."---Publishers Weekly
"This is the second of Marion Brunet's novels to be brilliantly translated into English by Katherine Gregor, and it's every bit as compelling a story as its predecessor Summer of Reckoning. The eponymous Vanda is a beautiful, dark-skinned, tattooed thirty-something, whose own 'reckoning' comes in winter – a season that, even in the Mediterranean, can be unpleasantly cold. She studied art but that career never took off, and she now works as a cleaner in a psychiatric hospital. The patients; her casual drinking companions in local bars; the sea – these are the contours of her world. But, above all, everything revolves around her son, six-year-old Noé: '"My baby, my Limpet" … All she cares about is Noé's focused little face … her world.' 
The pair live in an abandoned shed on the beach, somehow insulated from the 'other world' outside. But that other world suddenly intrudes disquietingly into theirs when Simon, Vanda's ex, reappears after a gap of seven years. His mother has died and he's come to clear out her home and organise the funeral. Since Vanda dumped him, his world has changed as much as hers: he now has a successful career, a beautiful, successful girlfriend, Chloé, and a comfortable life in Paris. But this idyllic set-up is turned upside down when he discovers that Noé is his son. His life is suddenly thrown into chaos – not least because Chloé wants nothing to do with children. As they walk back from the funeral, we find him 'thinking about the child and that takes up all the space in his head…he hasn't told anyone about the child, he doesn't exist. He's not in the flesh.' But of course, in reality, Noé is his own flesh, and what he'd hoped would be just a casual, let's-have-a-drink-and-a-chat meeting with Vanda has turned into a nightmare. Vanda, meanwhile, has her own nightmare, in which a monster devours Noé before her very eyes. Simon's arrival, she knows, threatens her world:  'She doesn't know exactly what he's bringing but she senses danger … something's about to shift and she's not sure her house-of-cards equilibrium can withstand the gusts.'
Vanda is about a clash of cultures, lifestyles, domestic politics and relationships, which, however firm they appear on the surface, turn out to be built on shifting sands. Marion Brunet's skill lies in demonstrating how 'the world outside' can undermine even the most self-confident of us; how, so often, that self-confidence is no more than a shell, an artifice, constructed to cover up regret, family dysfunction, and unacknowledged failure. Vanda and Simon both have skeletons in their little closets – skeletons that, once released, threaten their very different conceptions of security and the predictability of their lives. The determination of both to protect their respective identities, their polarised presents, and their futures sets in train a tragedy on an epic scale. And yet, as Brunet writes it, we are lulled, cradled along in an uneasy calm, until their relationship climaxes with the violence of a thunderclap.—EuroLitNetwork
"Following up from her 2018 Grand Prix de Littérature prize winning novel, Summer of Reckoning, Marion Brunet brings us a claustrophobic, unsettling and gut-punching new book about a woman and her young son living on the fringes of society in Marseilles. Vanda has always been a free-spirit, rebellious and someone who doesn't adhere to society's standards. Throughout her life she has learned that you the only person you can depend on is yourself –other people will always let you down and ultimately leave. The only constant is her young son, Noé, whom she affectionately calls Limpet.
Noé lives in perpetual fear that his mother will leave him. Even when she goes swimming he is riddled with anxiety and panic, waiting by the water's edge for her to return. Noé is Vanda's entire world and even though she often loses her temper with him, he's all she lives for. Vanda and Noé get by. Mostly they make do with what they have. Their living conditions are less than desirable. A cramped one-room hut at the edge of the beach, an inaccessible structure when high tide comes up to its door, is their home. With her meagre salary as a cleaner at a psychiatric ward she can't afford to rent an apartment in town and when asked why they don't move she cites the proximity to the ocean as their reason for staying. A group of friends often drop by to have a party on the beach and occasionally Vanda brings someone home, although it's tricky with a small child and limited space. 
To some Vanda is damaged goods, someone who doesn't want to grow old and become a responsible adult like the rest of the world. To Simon, Vanda's ex-boyfriend, she was crazy and unpredictable, someone he didn't want to introduce to his mother. A relationship with Vanda would have meant his destruction, his social fall. Fortunately Vanda severed the relationship they had in Tangiers and Simon left for Paris. Simon prefers everything to be orderly: neat, tidy and resolved. Which is why he's in a relationship with Chloé, a socialite from a rich family, who represents the life he wants – that of a successful graphic designer living in Paris with a beautiful young wife. However, when Simon's mother dies he has to return to the town of his birth, the same town where Vanda lives. Simon is ashamed of where he's from. In comparison to Paris this southern part of France is chaotic and disorganised, but now circumstances may force him to make peace with his origins.
When Chloé joins Simon for the funeral she finds it impossible to hide her disgust at the town where he grew up in and its people. She's not racist, she claims, but she also remarks that there are Arabs everywhere… The contrast between Simon's past and present couldn't be more glaringly obvious. So everything is set up for Vanda and Simon's paths cross. After more than seven years apart, Simon decides he wants to be part of Vanda and Noé's lives, but unwelcome arrival causes unnecessary tension and dislodges the balance they've managed to maintain on their own all these years. 
Men have always treated Vanda as property they feel entitled to own. She's had to endure all kinds of abuse because of her sex and her skin-colour, but also because she's been cast as the stereotypical woman with tattoos who likes sex but not attachments. She has been branded a lesser and disposable person by a discriminatory society. This assumption puts Vanda in dangerous situations which she's only just been able to escape from unscathed in the past. With Simon's arrival and his demands, Vanda might just reach breaking point.
The style and setting of Vanda is reminiscent of another French author's work, Victor Jestin's Heatwave. Brunet's novel is also short, but delivers a powerful blow with its simplicity and stripped prose. There's a sense of frustration, anxiety and anger in Vanda that simmers and builds up to a violent crescendo. This is an author who will leave you feeling unsettled throughout. The volatility is amplified when the staff at the psychiatric hospital start rioting because of their working conditions – we see the tension in Vanda reflected in the society around her and as the situation escalates the question is: can she escape before she causes harm, or is harmed herself? On the surface Vanda seems an uncomplicated story about a woman's struggle to fit in and cope with prejudice. She is a strong, resilient woman shaped by her circumstances and a life filled with setbacks, challenges and cruel twists of fate. It's a story of desperation, the ever-present threat of violence and the longing for a better future across the Mediterranean in Tangiers. Brunet's depiction of a woman whom society has failed is visceral and heartbreaking. She represents many other women in similar situations which is why it's such an important and eye-opening read." ---CrimeFictionLover
Francois Von Hurter