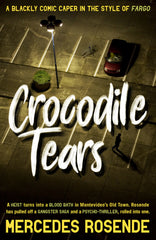 "Welcome to Montevideo, capital of Uruguay, a city forever besieged by "a faint smell of garbage". An armoured truck, carrying cash from a casino, is about to be attacked but, before it is, Mercedes Rosende introduces us to the characters involved: a cowardly kidnapper, a psychotic jailbird, a sleazy lawyer, a superstitious cop and a bulimic killer. She has a buttonholing style — "as we were saying", "the scene that follows is rather sad" — that leaves us in no doubt she views her characters as maggots under a microscope. And we are no better: "People are morbid and nothing attracts an audience quite like disease or pain or death. Or sex." Crocodile Tears, the first of Rosende's novels to be published in English, features the lot. It reads like a marvellous mash-up of Anita Brookner and Quentin Tarantino." The Times
"Crocodile Tears (translated by Tim Gutteridge) by Mercedes Rosende, who is, apparently, Uruguay's only female crime writer, begins at visiting time in a stinking, overcrowded Montevideo prison. Inept kidnapper Diego's release is secured by his pious hypocrite of a lawyer, but there's a trade-off: Diego must help stop-at-nothing psychopath Ricardo rob an armoured money transporter. Meanwhile, Ursula Lopez, an amateur criminal and unhappy overeater who is looking for the cost of a quick-fix slimming treatment after her attempts to muscle in on Diego's kidnapping have ended in failure, is waiting in the wings. When the heist goes spectacularly wrong, she sees her chance – but overworked and undervalued police captain Leonilda Lima is in hot pursuit … While Crocodile Tears might not be quite the "blackly comic caper" that its publishers claim, it is certainly fast, slick and acerbically funny: buckle up and enjoy the ride." Laura Wilson, Guardian
"Bitter Lemon now faces a lot more competition in the field of translated crime fiction than when it started out, but continues to unearth exciting titles. I should guess that Crocodile Tears by Mercedes Rosende is the first Uruguayan crime novel to have appeared in the UK; it is certainly the first by Rosende, a well established author in her home country, and I hope we'll get others by her. Crocodile Tears occupies Elmore Leonard/Patrick Hoffman territory, with a cast of amoral characters observed intimately and ironically, and here with a certain amount - but not an overdose - of playful commentary. The translation by Tim Gutteridge is a pleasure to read." BookBrunch  (Nicholas Clee)
STARRED REVIEW "Uruguayan author Rosende showcases her considerable talent in this offbeat crime novel, her English-language debut. Diego , who's been imprisoned for kidnapping Montevideo businessman Santiago Losada, is released after Losada's wife, Ursula López, denies to the authorities that Diego demanded a ransom for her husband's safe return—because Diego accidentally called a different Ursula López. Once Diego's free, he hooks up with Ricardo Prieto (aka the Hobo), a murderer who has recently escaped from prison, and joins the Hobo's plot to rob an armored car. Police captain Leonilda Lima, who's been disappointed with how her career's unfolded, gets word of the plan and hopes that thwarting it will reward her professionally. Vivid descriptive prose enhances the action, such as a passage that contrasts a real court waiting room with how American TV shows depict such spaces ("The outside world would wrinkle its nose if it entered this place, where prisoners wait for hours and days"). Rosende smoothly combines dark humor and farce with moving depictions of the grimmer aspects of life. Elmore Leonard fans will look forward to the sequel." Publishers Weekly
"This Uruguayan crime novel weaves multiple narratives into an at-once suspenseful and hilarious tapestry of crime gone awry. The eclectic cast of characters includes the incompetent kidnapper, Diego; the scheming lawyer, Antinucci; a psychopathic criminal named "the Hobo"; Captain Leonilda Lima, a hardworking cop disregarded by her male colleagues; and Ursula Lopez, a once-timid girl whose involvement in a madcap armored truck heist offers her potential redemption. This entertaining, critically acclaimed novel—Mercedes Rosende won the prestigious LiBeraturpreis in Germany for Crocodile Tears in 2019—brings female voices to the forefront of the male-dominated crime genre and delivers a powerful message hidden beneath the classic story of chaotic criminal exploits: never underestimate the women." World Literature Today 
"Dark thrillers often benefit from a drop of humour or a dab of irony, a blague or a wisecrack, but Crocodile Tears is immersed in black sardonic wit for 220 pages of wicked pleasure. This is an edgy read in the sense that it wades into serious issues with a satirical eye and draws out the farce; it's gloriously cynical. This is a black comedy executed with bravura. Readers will find themselves cheering for a killer and a kidnapper against their nastier, more stupid, and, in at least one case psychopathic, opponents. Forgot the moral compass, there aren't many good boys and girls in this caper, save one honest cop. Everyone else is on a sliding scale of criminality that encompasses robbery, kidnap, murder, and the whole gamut of gang related offences.
The plot is devilishly clever, meshing disparate characters, outrageous situations and improbable coincidences with an off kilter logic that is convincing. The dysfunctional underbelly of Uruguayan society, be it the corporate boardroom or the crowded prison cell, is exposed to ridicule by a series of sharply observed vignettes. There's a trend in South American crime novels, aware of the brutal reality of life, which tackles societal issues, (justice, corruption, gang crime poverty), with humour, (K. Ferrari Like Flies from Afar, Mario Vargas Llosa The Neighbourhood for example). Also with a nod to the magic realism tradition of the continent, (Borges et al). Rosende is most engaging of this sub-genre I've read, the writing is almost jaunty even when nasty things are going on and Tim Gutteridge conveys the sardonic wit of this screwball adventure in his English translator. Amidst all the hilarity home truths about human nature will make readers wince.
Diego is rotting away in prison. Meanwhile his former partner in crime, Sergio, is enjoying the spoils from the kidnapping of Santiago Losada. But things are looking up for Diego, his New 'friend' Ricardo, aka Hobo, has found him a lawyer. Sharp suit, designer sun glasses, confident stride – Antinucci says he'll get Diego released in less than a week. The wife of the victim told the judge there was no ransom demand and the police say they didn't find a weapon when they rescued Losada. Even the victim speaks up, saying Diego treated him well. This all seems very odd to Diego as he did have a gun at the hideaway and the wife, Ursula Lopez, definitely received a ransom note. Admittedly, they never claimed the money because Sergio realised Losada was carrying a bag of money in his car boot and he ran off with that. Hence Diego was left on his own to face the music. Of course, Hobo's help doesn't come free, in fact, he wants his pound of flesh, he wants Diego in on a robbery he has planned on the outside, an armoured truck job. Diego is in no a position to say no. A few days later he is back on the city street. 
Ursula Lopez, lacks self discipline, or so her father always said, he used to punish her by locking her in her room with no food as a child. She promised to be better but he always found fault. So Ursula's childhood was deeply unhappy, she grew up resentful and dangerous. Ursula is getting her own back on the world.
Captain Leonilda Lima is sent to the prison to investigate the murder of the drug dealer known as the Candyman, she gets wind of the upcoming heist. Ursula also becomes aware of the robbery when Diego falls into her web. All is set for a rambunctious adventure as the armed robbery quickly goes pear shaped; time for someone with a clear head to step in and take the prize or maybe time for an ambitious and clever police officer to bag one for the good guys. As most of the men here are bungling idiots this boils down to a face off between two clever women, Ursula and Captain Lima, a battle of wits ensues, who has the patience to see it through?
There's an elegant finish and some brilliantly telling scenes in this novel. Lawyer Antinucci readily admits to lusting after his secretary and taking the Lord's name in vain in the confessional. Then penance done, he throws small coins to a beggar and without questioning the hypocrisy or the contradiction, he takes a call from co-conspirator Hobo to plan the heist.
Each chapter is a perfectly encapsulated tale in its own right as the implausible of the enveloping story begins to make sense. There's very little crime fiction quite like this out there but the reference to TV series Fargo in the blurb is valid, most of the male characters are macho creeps, some with a 'plan' so dumb it defies understanding." CrimeTime (Paul Burke)
"Mercedes Rosende is Uruguay's leading woman crime writer. In 2005 she won the Premio Municipal de Narrativa for Demasiados blues, in 2008 the National Literature Prize for La muerte tendrá tus ojos and in 2019 the LiBeraturpreis in Germany for Crocodile Tears.The only other literature I have had the good fortune to read in translation from the second-smallest nation in South America, includes the poetry of Mario Benedetti, and the prose of Juan Carlos Onetti, the latter translated by Peter Bush.  From 1973 to 1985, thousands of Latin American writers, poets, artists, intellectuals and revolutionaries headed into exile, to wander the world during the brutal censorship of the military dictatorship in Uruguay. Onetti fled to Madrid where he remained until his death in 1994. Despite the arrival of a civilian government in 1985 and a gradual return to stability and economic growth, the disappearances, murders and other crimes committed under the military regime left a deep wound in an impoverished, Americanised society and culture.  Mercedes Rosende's writing, adeptly translated by Tim Gutteridge, is sorrowful yet playful. Elegant like the tango, and passionate at heart like the flamenco, it is underpinned by neo-noir dark humour. Ultimately it is the women who make headway out of the chaos.
Diego a.k.a. Sparrow is waiting for his slick Ray-banned lawyer, Antinucci, who "carries a briefcase that the guards don't check. Ever". He is sitting in a gloomy isolated corner of the visiting shed overlooking a cement yard, apart from the other prisoners. "Plastic tables and chairs have been set out in groups and the visitors break these up and reorganize them, dragging chairs to and fro, lifting and dropping them with a clatter." He is banged up for kidnapping Montevideo businessman, Santiago Losada, while Sergio, his partner in crime, got away, and is "living it up somewhere in the world with the cash he got from his victim". He is called a patsy by all and sundry.
Double Identity: Diego is released in part because Losada's wife, Ursula López, claims that Diego did not demand a ransom for her husband's safe return. It turns out that Diego accidentally telephoned a different Ursula López: a small time crook and miserable overeater whose life has been decimated by an abusive sadistic father, and "the brutal discovery that your [her] sister Luz was – is – more beautiful and thinner . . . [and] was – is – a better person."
Diego is also released in part because his duplicitous lawyer, Antinucci, gets him to team up with another client, cellmate Ricardo a.k.a. the Hobo. Inside for the murder of Irene Salgado, whose niece is called Ursula López, the Hobo is planning a heist after his jailbreak. "Too many Ursulas and too many murders. Could the two cases have become mixed up? And, most important of all, could Ricardo, the Hobo, have got confused? Could he have killed one woman believing she was the other?"
Carry on Thieving: Diego agrees to be the lookout who will help the Hobo and Skinflint get away in a Toyota truck with the bags of cash from the armed robbery, "and the same day you're back home with the loot, no problem."
Of course it all goes very wrong. There's a "bloodbath in which there appear to be not one but several dead bodies, almost all of them badly damaged." Unexpectedly, it is Ursula who drives away, though she is not alone. The hilarious bunglings of both the cops and robbers oddly reminded me of the crime comedies made by Ealing Studios in the 1950s.
The grittier, seamier barrios of Montevideo, "smelling of garbage" are miserable places from where everyone is desperate to escape. Chronic deprivation, unemployment, underemployment and corruption go hand in hand in these neighbourhoods that are crowded with "dwellings constructed from wood and corrugated iron, shacks where the poorest of the poor live".
A dark tale about systemic corruption and criminality fuelled by poverty, Crocodile Tears is both entertaining and thought provoking. The translation is rhythmic, poetic and bold in its language. It is the perfect read for right-sizing one's own lockdown anxieties and troubles since for many people in the world, the challenges are huge and sometimes extremely harrowing, compared to one's own . . . however much everyone's individual experience of the pandemic is unique." Bookblast
"Containing more than a smirk of humour, this is a bold, vibrant crime caper set in Uruguay. When Diego is released from prison he reluctantly agrees to hold up an armoured truck. Along the way we also meet a crooked lawyer, brutal psychopath, amateur con artist, and police inspector, two of whom are women and fighting to hold their own with the men. Award-winning author Mercedes Rosende from Uruguay is also a lawyer and journalist. Her writing is sharp and pointed yet rich and earthy. I initially felt as though I was observing from a distance, then as I got to know each character I edged closer and closer to the action. I found myself completely caught up in the words, the translation by Tim Gutteridge placed me within a country I don't know, yet enabled me to feel a connection. I didn't question, just sank completely into the storyline, and as the synopsis declares: "never, ever underestimate the women". Hugely entertaining, Crocodile Tears is a full-on, fresh yet heady read." LoveReading
"Uruguayan author Mercedes Rosende's novel Crocodile Tears opens in a Montevideo prison where Diego waits for his lawyer, Antinucci.
That man walking down the corridor, with his hair combed and slicked with gel, a burgundy tie and Ray-Ban sunglasses, that is Antinucci. The small scar above his right eyebrow, halfway between his nose and his hairline, looks as if it was made by a fist, although it must have happened a long time ago because the skin is tight and shiny around the mark.
Although he isn't ugly or old, that's the impression he gives; it's hard to say why.
Antinucci doesn't mince words; he tells Diego he's a "patsy." It's hard to argue that this isn't true. Diego and his partner Sergio, kidnapped wealthy Santiago Losada. Sergio took off with the loot, and so Diego took the fall. But the kidnapping took a bizarre turn when Santiago's wife, Ursula López offered the the kidnappers an even larger amount of money if they killed her husband. But things went south from there with the police storming the hideout, finding Diego and releasing Santiago. According to Antinucci, Ursula claims she never received a ransom demand. Now there's good news and bad news: Antinuuci has worked to get Diego released. The bad news is that Diego will have to repay the debt by being a lookout in an armoured car robbery. The robbery is planned by the revolting Hobo, a prisoner who organized Antonucci's services. Of course, we know it's not going to be that simple. Diego has already been marked as a "patsy" once. ...
The plot becomes more complicated with the introduction of Ursula López; there are two women by that name: one is the wife, or should I say now the ex-wife of Santiago, the kidnapping victim, and the other Ursula is a seriously damaged, dangerous woman. And this Ursula, thanks to the name confusion, involved herself in the kidnapping plot and then becomes a sort of sidekick to the seriously out-of-the-loop recently released Diego. But can she strictly speaking be called a sidekick? After all. she's operating with far more info than Diego. Soon corpses abound.
The name coincidence stretched credibility which is a shame as the plot rests on this. There's a blurb on Amazon that states that the book is a "marvellous mash-up of Anita Brookner and Quentin Tarantino" (the Times.) I would not agree at all. Bitter Lemon Press focuses on foreign crime novels in translation, so as a publisher, their books are a great way to discover new authors. Thanks to them I discovered Claudia Piñeiro." His Futile Preoccupations
"The title makes sense.  Compassion in all of the characters of Crocodile Tears is limited to a self-pity shaped by an exaggerated sense of entitlement.  The tale in the book has been compared to that in the movie Fargo.  The comparison also makes sense because, like the movie, much of Crocodile Tears consists of black farce created by chaotic and amoral personalities completely unaware of the law of unintended consequences.  But there is nothing in Fargo or anything else for that matter that compares to the stunning armed robbery set piece that dominates the second half of Crocodile Tears.  That alone makes Crocodile Tears an essential and delightful read.  Indeed it probably justifies a special trip to South America.  Most readers, having followed the armed robbers and police around the streets of Montevideo, will have the urge to remap the events and street corners where all the action takes place.
Crocodile Tears glories in crazy coincidences, and their purpose is to support an intricate farce that is constructed as well as anything French playwrights constructed in their heyday.  For those of a bleak disposition, and for those who write farces, life can either be regarded as sad or pathetic.  Before the robbery of the armed vehicle the characters vary between the two.  One of the key characters is a sad or pathetic peeping tom.  But as in the Patricia Highsmith novel The Cry Of The Owl this peeping tom is a lot more complicated than we imagine.  Patricia Highsmith may have understood the distinction between what is sad or pathetic but even she would have baulked at the madness that occurs in the armed vehicle robbery.
Mercedes Rosende is a talented and confident writer and in the first half of Crocodile Tears she pushes literary invention to include detail beyond what is expected of genre fiction in Britain.  The book, though, never stops being a page turner, and there is always the glorious and extended set piece that concludes the book.  The confidence of Rosende extends to the author keeping the reader in the dark for as long as possible.  Crocodile Tears has not just one denouement but many and none are introduced too soon.  Even better, some are hilarious.  There are even some serious themes hidden in the mayhem.  At the beginning of Crocodile Tears two of the protagonists begin the book in prison but all the characters are imprisoned to some extent.
In the plays of Chekov much of the confusion is caused by characters making the right speeches to the wrong people.  In Crocodile Tears all the conversations are somehow inappropriate and misjudged.  The action consists of helpless stumbles by people who overrate their talents except, of course, there are twists.  But that would be telling.  The female author has several sly digs at the conflict between the genders and has her own points to make about men and women.  But like the twists in the plot, mentioning them would also be telling.  The best thing to do is read Crocodile Tears.  The laughs and chuckles will be genuine."  Howard Jackson, Red Rattle Publishing
"How many Uruguayan crime novels have you read? Me neither. Yet among her several literary prizes Mercedes Rosende won the LiBeraturpreis in Germany for this one in 2019.
It takes a while to become, as billed on the cover, 'a blackly comic caper' partly because it's a multi-stream story combining several narratives. First we have Diego, a not too competent kidnapper who, to his surprise, is sprung from remand because the plaintiff says she has never met him. She, Ursula, is slim, rich and sly and shares a name with another, overweight and unhappy Ursula involved in the kidnapping – this Ursula (who has her own narrative stream) being an amateur criminal whose life has been marred by a dominating father. Diego's dubious lawyer, Antinucci, decides the best thing for his client to do on release is to join up with 'the Hobo' (probably the nastiest person in the  book) and hold up an armoured truck, a scheme which, as you can imagine, is unlikely to succeed. Piecing all this together (and with her own narrative stream) is the hard-working cop, Captain Leonilda Lima, so far passed over in her career but – who knows? – about to change her luck? Yes, you could say that this is complicated. The drama unfolds in a light conversational style, with plenty of asides to the reader, some gags, and plenty of twists and plot reversals. Things do not go well."  CrimeTime
"As a lawyer in training myself, I might already try not to take portrayals of legal professionals too seriously. Given Mercedes Rosende's Crocodile Tears is a black-comedy and a self-deprecating, partial critique of the police institution and of justice (plus I notice Rosende is herself a lawyer) I was therefore certainly ready to accept that the lawyer in her story wouldn't come off well. It transpired that he, and the other characters, are all not very likeable. This quickly became apparent from the outset: said lawyer, named Antinucci, has a client named Diego who begins the novel in prison in Montevideo. We are initially told that Diego is being held on a charge of kidnapping.
The plot, though, which develops in a surprisingly twisty opaque manner, could be summed up using a description Diego makes about prison, "a schizophrenia of isolated events". We, the readers, have been let in to the fun in order to piece these events together. I found the form and characters of this very sharp novel left me with plenty to think about, and the exercise of tying all the threads together made for a crime novel with unique characteristics.
Characters – a hapless and hopeless bunch
The 'gang' who make up the cast of Crocodile Tears are a pretty hapless and hopeless bunch: a convicted murderer, still greedy for power and money; a convicted kidnapper seeking a partner; a leather-loving lawyer who seems to think he is a self-appointed 'bossman'; a troubled woman who becomes the most ruthless and wild of all the criminals; and a horoscope-checking, gambling cop. Their families and a housemaid also become involved in the bungled crimes described in the novel (it is not a complete spoiler to refer to 'crimes' in the plural).
If you're looking for sleek, successful criminals and efficient police, this is not the novel for you. All the characters' flaws and failings are paraded throughout the novel. The sketches of the characters, their nuances and their development give rise to some interesting themes, including police corruption, eating disorders and the underestimation of women in the workplace. The delivery of these characters' portraits, containing difficult societal observations but presented with a good dose of dry wit and intelligence, shows great skill on part of translator Tim Guttridge too.
A unique, chatty and unfiltered form: There is much to say about the form of Crocodile Tears. The novel initially has chapters of what appear to be isolated plot points, flitting from character to character and from one setting in Montevideo to another, before gradually revealing how some of these strands tie together. At various points, we note the breaking of the fourth wall in the form of asides, jokes and nudges to the reader. The short chapters sometimes open in a chatty and conspiratorial way, with an observation making the reader feel like they are being addressed directly, but also providing invaluable information to help us follow what's happening. "Imagine the waiting room of the Criminal Court", we are told, in one such aside. "No, it's not one of those court waiting rooms you see in American television series".
The voice delivering these messages has no fear of speaking its mind. For example, it introduces one character's physical description as "She's not exactly pretty. She has a slight squint and her wavy hair never seems to be quite where it should be, but what is a pretty woman anyway, other than a bunch of ideas and preconceptions?" The use of this device is clever; even though we feel like we are brought into the narrator's confidence, and we feel trusted, we are left still with realisations we have to make for ourselves as the plot unravels.
Rosende's novel is a dark, funny adventure, featuring clever commentary on law and order, or the lack of it."  Sounds and Colours
"Crocodile Tears" offers a welcome exploration of crime fiction from Uruguay commencing in a place you really wouldn't want to be. The atmospheric opening chapter is set in probably one of the last places you would want to visit in the country; an overcrowded prison in Montevideo! Intriguingly the descriptions and minimal dialogue between prisoner and visitor indicate that the more villainous character of the two could well be the one who is free to leave. It's a very promising start to Mercedes Rosende's first novel translated into English, adeptly translated by PEN Translates Award winning Scotsman Tim Gutteridge. And so begins a multi stranded story which weaves its way to a money heist, switching between four principal characters, who range from the hapless fool, the brute, the corrupted, and that modern folk hero of South American crime drama, the opportunist (see my Brazil reviews for some different examples). In the background there is also the dogged police captain with unreliable colleagues but rest assured this astrology obsessive is far from your standard policewoman and "Crocodile Tears" is far from your standard police procedural.
Books can grab you in different ways and it's probably true to say that this was initially a bit of slow burner for me at first as the following chapters set the scene behind bars and on the outside. Pay attention though as these are critical for how the novel develops. Similarities have been made to translated fiction by fellow South American writers such as Claudia Piñeiro and Patrícia Melo (who have also had their novels published in English by Bitter Lemon Press) by the German quote on the back cover yet the feel of this novel is quite distinct. The language is gritty and urban, with a transatlantic use of words such as patsy and shiv yet there are also illumining descriptions that must have been a joy to translate, whether it's the secret late night trips to the refrigerator or the priest's confession, there are very enjoyable passages that take this novel far out of the ordinary.
One theme that is reminiscent of Piñeiro's work is the highlighted gap in society between rich and poor. This is very notable as one character compares her own life to that of another woman who shares the same name. It is reminded to us that she holds desires for "houses in Carrasco, gardens, swimming pools, real cars and not this crappy VW Golf". By contrast another character drives a A6 which he got brought over from Germany upholstered in the most expensive leather much like the protagonist from K Ferari's "Like Flies From Afar." 
The heist takes place on an armoured vehicle within one of the poorer area of the city, where nothing goes as planned. It is the fastest part of the story and as enjoyable to read as it is implausible to believe. The remainder of the novel dealing with its aftermath where we discover who has survived and who will come out on top. Not only is the novel great fun to read, it's also a swift and insightful look at another Latin American country. Great praise is yet again due to Bitter Lemon Press for giving so much exposure to crime fiction from these distant lands.   Crimes in Translation   
This excellent tale is set in Montevideo where the action is seen through the eyes of the chief players, although the narrator is conspicuously standing at their shoulder offering asides highlighting the peculiarities of the situation, or of the character she is describing, to amusing effect. The men in the story are universally incompetent. Diego, the first we meet, is in prison after being arrested, asleep, together with a man he has kidnapped. The jail is a terrible place and Diego is greatly relieved to secure an early release, although puzzled as to why Ursula Lopez, wife of his victim, should decline to offer any evidence to his detriment.

Unfortunately, his lawyer Antinucci has demanded as a price of his freedom that Diego should participate in the hold-up of an armoured truck, in the company of the Hobo, a fearsome psychopath. Antinucci, always immaculately dressed, driving a spotless car and regularly at mass to ensure his soul is equally clean, has had a delivery of heavy weapons flown in to ensure the heist goes without a hitch. Antinucci has also taken care to obtain the cooperation of the police, and is not concerned when Captain Leonilda Lima, the apparently sole honest officer, is the first at the scene after the event. Lima is sidelined by her superiors but has a shrewd idea as to what has been going on and manages to keep in touch when the police follow the stolen money into town. By this time the cash is in unexpected hands, including those of Ursula Lopez, a woman of unexpected resources as well as a rather alarming history. Lima is on her trail but temporarily confused: Ursula Lopez was recently shot and killed, and surely there cannot be two women of such an unusual name in Montevideo?

The quality of the writing particularly emerges in the way the author gives the picture from different perspectives but leaves various connections to be made. So how the story hangs together does not become entirely clear until the final pages, when illumination gives great satisfaction as key facts fall into place. It is also difficult to resist the funny side of the author's penetrating insight into the motives and behaviour of her characters, which come across as absolutely genuine. The portrait of Montevideo is hardly a flattering one, a picture of incompetence and corruption, great disparities in wealth, crumbling infrastructure and all the rest of it. The reader will find it easy to absorb the background, however, so mesmerising are the characters and the action. CrimeReview
Francois Von Hurter