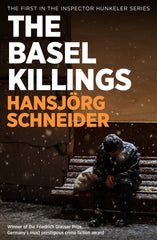 WSJ BEST READS OF THE WEEK: "Inspector Peter Hunkeler, a 32-year-veteran of the police force in Basel, Switzerland, seems far from a heroic figure when we first encounter him in Hansjörg Schneider's "The Basel Killings" (Bitter Lemon, 254 pages, $15.95). Hunkeler frequents low dives, suffers prostate trouble, and has just relieved himself against a tree when he discovers the corpse of an acquaintance sitting on a bench with his throat cut. He then vomits, further contaminating the crime scene.  
This new killing resembles the recent murder of a woman strangled and thrown into a pond: Both victims had an earlobe slit and a valuable jewel stolen. But when Hunkeler allows a suspect to knock him out and escape, he's suspended from his departmental duties. The inspector does his best to turn this lemon into lemonade; continuing solo, in his shambolic way, he keeps stumbling upon (or being guided to) new leads and evidence—including, in a nearby wood, a burned-out car containing a dead passenger.
The crimes in Mr. Schneider's book, translated from the German by Mike Mitchell, at first seem linked to encroaching Albanian hoodlums, but Hunkeler begins to think otherwise after a young Romanian Gypsy girl is choked and thrown into a lake. "It's incredible," says a record-keeper at the Federal Archives, "that something like that can happen in the old humanist city of Basel." Hunkeler pieces together that these recent atrocities have roots in the past, in his country's malign treatment of Gypsy Travelers. "We can't do anything about the iniquities of our fathers," says the state prosecutor to whom Hunkeler answers. "We try to repress and forget them. But they come back to us."  Wall Street Journal
STARRED REVIEW: "At the start of Swiss author Schneider's excellent first mystery and series launch, Peter Hunkeler, an inspector with the Basel City criminal investigation department, stops to relieve himself on a tree after leaving a bar. He spots an acquaintance, an "old vagabond" known as Hardy "who always had a diamond in his left earlobe," sitting on a nearby bench. When Hunkeler approaches Hardy, who doesn't respond to the inspector's efforts at conversation, Hunkeler discovers Hardy has been strangled and the diamond cut out of his ear. The murder resembles one of Hunkeler's open cases—the strangling, several months earlier, of a prostitute whose ear was slashed to remove a pearl stud. Hunkeler, who takes the deaths personally, finds himself at odds with his bosses and at risk of losing his job when he dissents from the theory that the killings were related to the city's drug-trafficking by Turks and Albanians. Schneider makes his flawed protagonist relatable and the truth behind the murders satisfyingly surprising. This gripping, plausible debut bodes well for future entries."  Publishers Weekly 
On a quiet October night in Basel Inspector Hunkeler is relieving himself on a tree. It is just after midnight and the Inspector has been drinking in several local bars and is struggling with the effects of an enlarged prostate. He notices a local character called Hardy sitting on a nearby bench illuminated by the streetlight. Inspector Hunkeler regards him as something of a talkative vagabond, but when he tries to engage him in conversation on this dull, autumnal night he is unresponsive. Upon closer investigation Inspector Hunkeler discovers that he has been strangled and then had his throat cut. Hardy has also had his ear slit in order to remove a diamond stud earring that is something of a signature characteristic to those that know him.
The murder is quickly attributed by the local police and media to Albanian and Turkish drug smugglers who are working in Basel but Hunkeler is not convinced. Inspector Peter Hunkeler is coming towards the end of his career and suddenly finds himself at odds with his employers over the killing. The details of this murder are strikingly similar to the murder of a local prostitute a few months earlier who was strangled and had her ear cut open in order to take a pearl stud earring. When Hunkeler attempts to question a local Albanian gangster who is being held in the city events take a turn for the worse when the Albanian knocks him out and manages to escape from police detention. Hunkeler is suspended by the Basel police but stubbornly pursues both cases from his rural home in the Alsace region.
As Hunkeler works his way with a connoisseur's interest through numerous bottles and vintages of wine he uncovers a hidden story of social and institutional corruption behind the distinctive and disturbing murders. The Basel Killings is the first in the Inspector Peter Hunkeler series to be translated and published by Bitter Lemon Press and was the winner of the Friedrich Glauser Prize in 2005, Germany's most prestigious crime fiction award. Hunkeler is something of a likeable and eccentric character full of human flaws and weaknesses but with an unmistakeable lust for living. Author Hansjorg Schneider moves his gripping story from the seediness of Basel's underbelly to the gloom of the forests of the Alsace and back again probing the fractures in Swiss society much as Friedrich Glauser did in his own memorable crime fiction. Haunting, eerie and strange in its imagery but often grimly humorous, The Basel Killings is a vintage Swiss mystery fiction that appears to only be improving with age.  CrimeTime
Famous in the German-speaking world, Hansjorg Schneider's series about Inspector Peter Hunkeler of Basel City CID appears in English for the first time, starting with opening novel The Basel Killings (Bitter Lemon, £8.99). Basel is an ideal location, being a place where the borders of Switzerland, Germany and France meet in a porous hub. Hunkeler, ageing but resolutely not disillusioned, is in some ways the archetypal "lone inspector" of crime fiction, his habit of drinking in low-class bars only barely tolerated by his bosses because he gets results.
The discovery of an old man dead on a park bench with his ear slit open begins this investigation. The media and the police are quick to lay the blame on foreign criminal gangs but Hunkeler's determined probing unearths a shameful episode from the nation's recent history, hidden only by a national act of creative amnesia. A magnetic central character, a skilful and unhistrionic telling and a dose of political realism make this book a very welcome arrival.  Morning Star

LOVEREADING EXPERT REVIEW OF THE BASEL KILLINGS
An atmospheric plot and setting frame a compelling police inspector as he investigates a murder on the borders of Switzerland.
This piercing and smart crime novel almost creates a physical ache as it worms its way under your skin. Inspector Peter Hunkeler investigates a murder that appears to link to another and while colleagues blame a gang of drug smugglers, he begins to look in another less obvious direction. This is the award-winning and first to be translated book in the Inspector Hunkeler Series set in Switzerland on the border of France and Germany. The main character feels tightly wound as he stamps all over the pages, he is simple yet complicated, and entirely fascinating. Hansjorg Schneider writes with succinct sentences that gather and spill over into an evocative setting and plot. Translated by Mike Mitchell, the atmosphere slunk into my thoughts and haunted my reading. I witnessed Hunkeler as he scented the truth and allowed access to an awareness that sat just under the surface before breaking free. The Basel Killings is a story that lurks and scowls as it stomps its way to a compelling and interesting conclusion. LoveReading LIZ ROBINSON
 The name Hansjörg Schneider may not mean much to you, but in the German-speaking world he is an important literary figure. Based in Basel, Switzerland, Schneider is a famous playwright and philosopher who, in 1993, began a series of crime novels about a Basel detective called Kommissär Peter Hunkeler. Books from the series have won several awards on the Continent and four have been adapted for film and/or television. However, none of the ten books in the Hunkeler series has been translated into English. Until now.
From 15 July 2021, crime fiction lovers will be able to discover The Basel Killings thanks to this translation by Mike Mitchell for Bitter Lemon Press. It all begins with a half-drunken stroll through the park for Hunkeler, who is on his way home one night. He sees his colleague Hardy sitting on a bench, illuminated by the streetlights. The man is eerily silent and still, and when he gets closer Hunkeler sees that Hardy's throat has been slit and the diamond earring Hardy wore has been torn from his earlobe.
The case Hardy was working on involved an Albanian drugs gang, and the police and media work on that assumption. But this solution seems too neat and tidy for Hunkeler, who discovers that the case goes much deeper. It is one of corruption, involving Swiss politicians and industrialists, which could rock the city and the country. Hunkeler is about to crack open a major cover-up…
Billed as the first in the Inspector Hunkeler series, this is actually the fifth Hunkeler story Schneider wrote. The book has been translated from Hunkeler macht Sachen. Published in 2005, it won the Freidrich Glauser Prize that year and was made into a film in 2008. A literal translation of the title is 'Hunkeler does stuff', so you can see why Bitter Lemon has chosen to call it The Basel Killings. At 250 pages, it's a gentle entry into Swiss crime fiction and looks ideal for anyone who enjoys reading about detectives like Martin Beck, Wallander or even Maigret. CrimeFictionLover
Bitter Lemon continue their mission to bring us Persons of Interest in international crime fiction with this, the first in the Inspector Hunkeler series (first published in Switzerland in 2004). Schneider has won the prestigious Friedrich Glauser prize for crime fiction, though this is a fairly placid introduction to the series. Hunkeler, fat, unfit and near retirement, unjustly suspended from a case, continues regardless to explore it. When a couple of "low-life" people are killed in the border town of Basel their murders have something in common: an earring is slashed from their ear lobes. Albanian drug smugglers are assumed to be the culprits – or are they the victims? Are Albanians to blame? Or is there blood on the hands of those in power, who perhaps have more to hide? CrimeTime II 
"This is the first book in the Inspector Hunkeler series, first published in German in 2004. Hunkeler works in Basel, the northern Swiss city close to the border with French Alsace. Hunkeler, nearing retirement, knows his patch well, and with his girlfriend Hedwig away in Paris his evenings involve trawling the local bars where he is familiar with most of the locals. Close to midnight on a grey, wet October evening, on his way home, he stops for a word with a man he recognises asleep on a bench. Instead of being asleep, the man is in fact dead, strangled, a diamond stud slit from his earlobe. When it is found that the victim drove a regular lorry to Albania, the police and the media jump to the conclusion that the death is related to drug smuggling from that country, a view Hunkeler does not share.

Hunkeler's cavalier treatment of the crime scene leads to criticism from his colleagues and he is suspended from duty. Notwithstanding, he follows his nose in his own characteristic fashion and gradually narrows down the field of suspects. Eventually his superior accepts that Hunkeler he needs to be brought back as without him they are getting nowhere. Hunkeler is an agreeable detective. Habituation to the low dives around town means he has some appreciation for the pressures the less-well-off in the community face. He enjoys their company more than that of the more respectable sectors of society, who have ready-made culprits for every problem: travellers and the latest immigrants, Albanians in particular.

Hunkeler shows a very engaging appreciation for life. He takes pleasure even in the fog-filled valleys and the damp streets of the town. He has a rural retreat across the border where he delights in bucolic attractions, including the farm animals managed by his neighbour, in a way of life apparently now in decline and unlikely to be sustained for very much longer.

Like every good policeman he also revels in the chase, the pitting of his wits against his opponent. The author sometimes sets out Hunkeler's thinking explicitly, sometimes it is hinted at, and sometimes the reader is left to guess. There is something of Maigret about him in the way he absorbs the atmosphere and sifts for an understanding of motives. Hunkeler is a great character, and I'm surprised it has taken so long for him to appear in English translation."    CrimeReview
"The Basel Killings (originally published in 2004), is the first of a series of novels featuring Inspector Peter Hunkeler and the first to be translated – with panache by Mike Mitchell – into English. At first reading, Hunkeler seems to be the paradigm of the troubled detective, à la Rebus or Harry Hole: past his prime, divorced, with a daughter who seems to have no part in his life and partner who's not there when he needs her; troubled by too much nicotine and alcohol; even more troubled by health problems (heart and prostate). However, what redeems this story from being just another police pot-boiler – and makes it a true humdinger – is the setting. Basel is not just another Swiss city full of just-so Swiss people, but one that hides a thrumming maelstrom of quirky characters: Turks, Serbs, Belarusians as well as Swiss misfits, all sailing too close to the criminal wind – prostitution, drugs and much else. And for some that turns out to be fatal, in a series of deaths carried out with a modus operandi that defies explanation: strangled, their throat slashed and their left earlobe slit – and a stud of jewellery set in the lobe stolen … but nothing else taken.  
For Hunkeler's colleagues – and rivals on the force – this is a clear case of an Albanian drugs feud. Hunkeler begs to differ, but his wayward behaviour – getting into fights, peeing against an ornamental tree outside the Cantonalbank – gives his departmental opponents the excuse they want to take him off the case. However, the unique situation of Basel – at the intersection of three countries all speaking some dialect of German and all running separate police forces looking into the same cases – rather foils their plans, and he pursues his investigations out of sight and mind. For, though Switzerland isn't part of the EU, its borders with France and Germany are no barrier to criminals, as well as the law-abiding and the law-enforcing, who criss-cross them at will. And it's in this context that the story, which gets off to a somewhat slow, stuttering start, really takes on a very particular and quite enthralling pace: the mystery deepening as Hunkeler roams through rural Baselland, Alsace and southern Germany in search of clues. 
Much has been written about the twentieth-century political sins of the Germans and the French, but relatively little about the skeletons in the Swiss cupboard, skeletons that turn out to be the driving force behind the Basel killings: a history of the powerful versus the powerless. 
'Individual people kept on gaining power over the rest. Once they were in power, they went over the top and became crazy … And many of the powerless had to suffer from that.' 
The Alsatian French and Breisgau Germans are intensely suspicious of inquisitive incomers, but it's in this divided and multi-ethnic triangle that Hunkeler doggedly uncovers the facts that show it's the dirty secrets of the Swiss state that are the problem. 
'The dirt sticks to us … it's stuck there inside us. You can scrub as much as you like. We're like the plague that can't be eradicated … They wanted to save us from ourselves. They didn't succeed."
This is an absorbing story; Hansjörg Schneider paints a disturbing picture of a cruelty that has lain undiscussed behind the façade of Swiss propriety and complacency; and all the while he keeps us guessing right to the end."
European Literature Network (ELN)
Francois Von Hurter