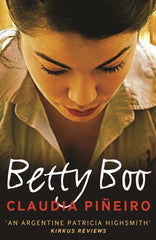 The Times:
"Not for nothing is Claudia Piñeiro Argentina's most popular crime writer. Betty Boo is original, witty and hugely entertaining; it mixes murder with love, political power and journalism. Nurit Iscar, the engagingly eccentric heroine and a famous writer fallen on hard times, is hired by her ex-lover, now a newspaper editor, to cover the story of a Buenos Aires industrialist found with his throat slit.
Delightful characters include a morose veteran hack and a young trainee known only as Crime Boy. Iscar falls in love and the homicide count has moved up the ladder of Argentine politicians. Piñeiro's style—lengthy paragraphs containing a variety of thoughts, issues and dialogue with no quotation marks—is challenging at first, but is soon conquered, and is definitely worth the effort. It must have been hard to translate; Miranda France has done so excellently." Marcel Berlins.
Journal of the Law Society of Scotland: 
Ms Piñeiro has previously been a journalist, playwright and scriptwriter before turning her very talented hand to crime fiction. In a few short years she has acquired a (justified) reputation as one of Argentina's most successful exponents of the genre.
Nurit Iscar (aka Betty Boo) is a novelist who gave up after a particularly hurtful review. Matters were complicated by the fact that the review appeared in El Tribuno, with whose editor she was, at the time, having an affair. When wealthy businessman Pedro Chazzareta is discovered with his throat slit in a secure gated community, the editor, Rinaldi, hires her to write background features on the case. The crime reporting is in theory headed by a young reporter known as the Crime Boy. In practice he defers to the veteran Jaime Brena, a long time crime journalist moved sideways to a society slot which he hates. Working together, the intrepid trio soon link this killing with a series of others, most of which have been written off as suicides.
Ms Piñeiro says that all of her books, even her fiction, contain part of her. One can certainly see that the journalistic input and the fast moving action could easily have been created with the small screen in mind. Her handling of dialogue is unusual, but effective. The pace is fast: the main characters are likeable, and the supporting cast contains the eccentric, the excitable and the downright evil. Spoiler alerts prevent me from saying much more about the plot. Suffice to say that it ain't over till it's over. One thing I can say with certainty is that, unlike Nurit, Claudia Piñeiro runs no risk whatsoever of receiving bad reviews. Four of her novels are now available in English translation. I for one will be seeking them out soon.
CrimeReview: 
When Pedro Chazaretta is found with his throat cut and the knife in his hand, some say suicide and some say murder but the most common view is that it is only apposite, given that his wife died the same way and Chazaretta may have had a hand in her death.

Interest in such a murder, especially in such a protected area as a Buenos Aires country club, a gated community for the rich, is rich fodder for the newspapers. Rinaldi, boss at El Tribuno, assigns a cub reporter 'Crime Boy' for the journalism, and his ex-mistress Nurit Iscar, a crime fiction writer, for more thoughtful pieces.

Crime Boy relies mainly on the internet for his information, a source scorned by ex-crime reporter Jaime Brena, now transferred to the society pages, and hating every minute. Brena cannot forebear from helping Crime Boy with the case, especially as he has long been in love with Iscar; the opportunity of getting closer to her is irresistible.

To gather the local gossip, Iscar temporarily takes up residence in the country club; Brena and Crime Boy pay a call, and are given the opportunity to visit Chazaretta's house. While there, they notice that a photo has been removed from its frame, a photo which they establish showed Chazaretta with a number of old school friends. Investigation soon shows that Chazaretta is not the only one of the group to have died recently.

As with Pineiro's earlier works, the crime component is only a starting point and there is plenty going on to hold the reader's interest, including digressions on matters of interest. Authors' reluctance to update their pictures on book jackets, the physiological effects of ageing, school reunions and the declining standards of speech are only some of the topics which get a workout through the minds of her characters. The ridiculous 'security' arrangement for obtaining access to country clubs, and the continuing need for brave journalists prepared to take on the police or politicians are points made very forcefully. 

The relationships between key characters are also interesting. Iscar's friends Carmen and Paula give her plenty of advice when it appears that Iscar may be up for resuming an old affair with Rinaldi, but Iscar is no longer in love and her observations on how this makes her view the guy differently are acute and very funny. The attraction between Iscar and Buena grows during the book, giving rise to the question as to whether they will get together before the end.

There are a few points of style which some may find difficult. The book is written in the present tense throughout, paragraphs are pages long, and dialogue is given without punctuation. All this is easily forgiven, however; the book is a convincing tale of real people, and as entertaining as it is there are some very important observations being made about life today in Argentina – or anywhere else, for that matter.
Swiftly Tilting Planet: 
"Sometimes we can take the right road, sometimes we have to take other roads without knowing whether or not they are going to lead where we want to go."
Argentinean crime writer Claudia Piñiero takes us back to familiar territory, an elite community for the very privileged, in her latest crime novel, Betty Boo. In Thursday Night Widows, Piñiero explores the dark secrets that reside in the seemingly affluent gated community and the scandal that erupts when 3 men are found dead in a swimming pool. Betty Boo begins with La Maravillosa Country Club, a Buenos Aires community whose exclusivity and high security does not prevent the occurrence of a vicious murder. The dead man, Pedro Chazarreta, was the suspect in the recent high-profile murder of his wife. Although many considered him guilty, the case was dismissed "on the grounds of lack of evidence," but now found murdered in exactly the same fashion, in the same house, Chazarreta seems to have received the death he deserved.
The murder brings together a handful of main characters, including former crime reporter, Jaime Brena. Now humiliatingly demoted to writing meaningless, trite articles for the society section at El Tribuno, Brena, divorced and fighting for possession of his books, looks forward to the time he will own a dog, imagining how the relationship will be and what sort of pet owner he will become. He understands he's a loner and that makes any relationships problematic: 
"Only a solitary person is able to be at the side of another without feeling the need, the obligation to possess or change him." 
The new crime reporter, dubbed 'Crime Boy' by Brena doesn't seem to have a clue about how to do his job, and Brena, somewhat reluctantly takes the new reporter under his wing. Meanwhile, slimy womanizer, the El Tribuno's editor Lorenzo Rinaldi hires Nurit Iscar, dubbed "the Dark Lady of Argentine fiction," and also nicknamed Betty Boo for her dark curls, to write literary articles about the murder from the vantage point of a plush house within La Maravillosa. Nurit was once a writer of best-selling crime novels but she made the mistake of falling in love during an affair with a married man who had no intention of leaving his wife. 
"Because you were in love, your head was somewhere else and love and art don't get on well. Sex and art do, but not love and art." 
With her last book written during the affair, a romance called Only If You Love Me, a complete flop, and after a bitterly critical review, Nurit now refuses to write a novel again. Divorced and her children grown and gone, Nurit is a ghostwriter (escritora fantasma), and she's currently working on the memoir of a privileged society woman.
Nurit and Brena are both great characters worthy of their own series. Both are now reduced to using their writing skills for survival, not for something they feel passionate about, but for generating soulless, meaningless rubbish on cue. Brena, involved with crime once again, is energized. Nurit's affair was the inspiration for her ill-fated romance book, and now relying on ghostwriting for the wealthy who have the money to fund their own meaningless memoirs, she chugs along in life, aided and abetted by close female friends. Rinaldi's offer to write articles for the paper could be just the jumpstart her career needs, or then again, as her friends are convinced, the offer may mask an ulterior motive… 
Once Nurit is living in La Maravillosa, writing her own material again, and with life offering her choices, she finds that her old skills never left. The depiction of the elite housing community reveals the highly stratified layers within Argentinean society–the have-a-lots and the have-nots, with people like Crime Boy, Brena, and Nurit somewhere in the middle. The great irony of the novel is that while walls, excessively high security, and guards supposedly guarantee safety, murder stalks La Maravillosa. 
"She thinks how the quotidian –banal, even-elements of daily life can get mixed up with crime in a fusion that both robs the horror of any drama and makes simple things more horrifying." 
 Betty Boo is not as tightly plotted as the previous Piñiero novels I've read (there's a sidetrack history of the Betty Boo character, for example) and the dialogue formatting isn't reader friendly. Still this is a novel from my favourite crime writer from Argentina, so I'll call her the real 'Dark Lady of Argentine Crime Fiction.' This is a novel about second chances (and if you think about it, revenge is a type of second chance), but on another level the emphasis here is of creating a world of "counter-information," "being informed from a different point of reference, outside the centers of power: an alternative media." Since this is an Argentinean novel, the reference to secrets and "unpunished crimes" carries additional significance."
Booklist:
Mystery writer Nurit Iscar hasn't fully recovered from the bad reviews of the love story she wrote while in the throes of an affair with newspaper editor Lorenzo Renaldi. It's only the promise of a much-needed paycheck that makes her agree to write a series of articles about the murder of a wealthy businessman in one of Buenos Aires' prestigious gated communities. With veteran journalist Jaime Brena and the newspaper's young crime editor, Nurit traces the connection between the victim and several of his schoolmates, who have all died recently, supposedly accidentally. Piñeiro (A Crack in the Wall, 2013) writes page-long paragraphs with shifting points of view, sliding from one character to another to show what each is doing at the same point in time. The characters' response to the mystery's resolution is surprising for a psychological suspense novel, but also very real. This isn't a good fit for readers demanding fast pacing, but those willing to take the time to enjoy the style and the unusual denouement will find themselves wondering why more crime authors don't take the kinds of risks Piñeiro does. 
Shotsmag:
A group of appealingly ordinary characters are investigating a murder from a journalistic point of view. The chilling story that emerges from their research, scales the highest echelons of Argentinian society, while having its roots buried deep in the past. 
If Betty Boo makes you think of Betty Boop the perky American cartoon character, well that is intentional! It is the old nickname for Argentinian writer, Nurit Iscar. Now middle aged, she becomes involved in a newspaper report on the murder of a wealthy, and somewhat murky man in a very exclusive gated community in Buenos Aires. The atmosphere of this community is superbly conveyed - the reiteration of the experiences of various characters arriving there, and the detailed and long winded checks they must undergo really makes that point abundantly clear.
The background of Argentinian attitudes and the history that has spawned them is fascinating - some participants have revolutionary pasts while others work for the existing regime, a regime seen by many as sunk in corruption. Since the theme is crime we get a history of famous cases - solved and unsolved - as a veteran crime reporter recently demoted tries to educate his hapless young replacement who is referred to throughout as Crime boy. Friendships new and old feature strongly as the story around the murdered man develops. It expands to what appears at first to be an unlikely theory, but the three central investigators use their differing strengths and skills to fill out the details of a monstrous crime in the present, and also in the past.
The style takes some getting used to but it is well worth persevering. It is rather like a stream of consciousness, but not by one single protagonist - the point of view changes as the ball passes from one to another. All is in reported speech, so in the same section you can go from the thoughts in a person's head to his or her reported remarks to other people. It requires a degree of concentration from the reader rather like that required for reading subtitles on a foreign film. Lengthy passages are the norm, though chapters are short and terse.  
This crime novel is a refreshing change from the Anglo-American norm, and all the more interesting for that. Characterised as a 'crime novel' seems the right description, for the characters, their situations and their interactions are as valuable to the plot, as is the crime that unfolds from the narrative.
Publishers Weekly:
At the start of this thought-provoking mystery from Piñeiro (A Crack in the Wall), maid Gladys Verela arrives at the Maravillosa Country Club, where industrialist Pedro Chazaretta has a house on the grounds. In the living room, Gladys spots Chazaretta sitting in a chair, apparently asleep, but in fact his throat has been slit. Lorenzo Rinaldi, the editor of the newspaper El Tribuno, approaches novelist Nurit Iscar, "the Dark Lady of Argentine literature" who's known as Betty Boo, about covering Chazaretta's murder. Nurit joins forces with an inexperienced young reporter, who's disparagingly referred to only as Crime Boy, and Jaime Brena, a cynical veteran crime reporter who has been shunted off to the society desk. The members of this mismatched trio share insights and realize that several more deaths share a connection with Chazaretta's. In Piñeiro's artful hands, each of her investigators learns as much about himself or herself as about the murder on the way to the surprising, perfectly executed ending. (Feb.)
Sunday Times London:
The title of Claudia Pineiro's latest novel, Betty Boo, translated by Miranda France, is also the nickname of her main character, Nurit Iscar, a novelist who has been reduced to ghost-writing other people's memoirs after her last book was mauled by the critics. Down on her luck, Nurit feels she can't refuse when a newspaper editor invites her to write about the killing of an Argentinian industrialist who lived in an exclusive gated community in Buenos Aires.
This is a mordantly funny novel about murder, friendship and the state of journalism from an Argentinian writer who has been compared to Patricia Highsmith.
Killer Nashville: 
Piñeiro pushes the reader directly into the action without warning, ignoring any potential for a brooding noir introduction to the story. Her clipped prose offers little chance for the mind to wander as the facts present themselves and the story unfolds. Her steady, confident narrative voice leads the reader's imagination in a nearly cinematic way, constructing a full, breathing world almost imperceptibly. The plot itself leaves nothing further to be desired. Her characters are unique and rock-solid, her dialogue is fun and punchy, and she leaves no room for plot holes or confusing secondary stories. If you're looking for a top-notch thriller, you've found it. What's truly delightful about this novel is not only the complex plot, strident narrative voice, or intrigue, but the genuine heart underneath it all. Piñeiro, while weaving a perfectly wonderful crime web, manages to fill the entire book with another layer of warmth and wit that leaves the reader walking away in total satisfaction
Book Riot:
Piñeiro is AWESOME.
Her books are dark, have buckets of atmosphere, and they all feel entirely different even though she revisits some of the same issues again and again. She deals with the culture and social structure within gated communities; shows how walling ourselves in seems safer, but actually promotes fear and claustrophobia; she deals with gender roles and prejudice and economic class and long-held secrets that fester.
Three of her books are currently available in English, all from Bitter Lemon Press (which is one of my personal favorites), and all translated by Miranda France. Her English debut, Thursday Night Widows, reads like a dystopian novel… but it's set in a gated community in the real world. It opens with three men dead in a swimming pool, and then it rewinds to tell the story of how they ended up there.
It's a slow build of secrets and lies, about the gender divide and the generational divide and classism and domestic abuse and voyeurism, about living a life in which appearances matter more than anything and the pressures that weigh heavier and heavier until everything crashes and burns. There's a 2009 film adaptation of it directed by Marcelo Piñeyro (I couldn't find a trailer with subtitles, but it made me want to watch the movie regardless!):
In All Yours, Ines suspects her husband of infidelity, follows him on a late-night excursion, and then sees him KILL ANOTHER WOMAN. She provides him with an alibi in order to cement his loyalty to her… and you might be able to predict just how well that goes. Of the three available titles, this one was hands-down my favorite, because Ines is an entirely unreliable narrator. She's capable of incredible levels of self-deception even though, underneath it all, it's clear that she knows that she's lying to herself. Lies and double-crosses and revenge and a TIP-TOP STELLAR voice.
A Crack in the Wall is about Pablo Simó, an architect who hates his job—or, well, he loves building design, but yearns to create something other than soul-destroyingly boring office buildings—whose wife and daughter are at each others' throats, whose marriage is imploding, who shares a deadly secret with the two people he works with, and who just met the lovely young woman who might bring said secret to light. This one deals with inertia, with rediscovering passion—both intellectual and romantic—and with starting over. Also, there was so much about the architecture of Buenos Aires that I ended up down an internet rabbit hole and SO. PRETTY.
And finally, in February comes Betty Boo, which I've already read, and HOLY CATS JUST DO YOURSELF A FAVOR AND PRE-ORDER IT NOW. It's about a crime novelist Nurit Iscar—who looked like Betty Boop in her youth, hence the nickname—who has been in semi-retirement ever since the release of her last book, which was pretty much universally panned. Her (married) ex, a newspaper editor, talks her into writing a series of longform nonfiction pieces about a recent death—in a gated community, naturally—and sets her up in said community, as well as putting her in touch with the paper's wet-behind-the-ears crime reporter.
Things about this book I loved: EVERYTHING EVERYTHING EVERYTHING. There's an arc about a team coming together, there's eye-rolling hilarity about middle-aged parents dealing with dipshit behavior from their almost-adult children, and there's a romance that gave me all the feels. AND. AND. DID I MENTION THAT I LOVED EVERYTHING ABOUT IT?
Come for the mystery, stay for everything else, including the craving for empanadas.
Seeing the World through Books:
Among South American authors, Claudia Pineiro is one of my unabashed favorites, at least in part because the expectations she creates in her readers combine with her sense of irony and dark humor to deliver clever plot twists and sudden narrative shifts. The conclusions of her novels always leave me with a smile on my face – tricked again. Like her three previous novels which have been translated and released in English (by Bitter Lemon Press – see links below) this novel too, is full of surprises. Pineiro always provides depth to her work, vividly depicting the values of her society and the ethical conflicts which often haunt her main characters. Dishonesty and crime certainly play strong roles in her plots, but she is less concerned with depicting violence and gore than in illustrating the interplay of good and evil in her characters' lives; she writes with a light tone, almost of self-mockery, not characteristics one usually associates with "crime writing." Here, however, the author also introduces a dramatically altered narrative style, one which allows her to expand her themes and the vision of the world as seen by her characters.
As the novel opens, Gladys Varela, a domestic worker, is trying to get past the security guards at the entrance to Maravillosa, an "elite" gated community, so she can begin her work, and Pineiro has great fun satirizing security measures so extreme that it appears almost no one, even residents, can get in. Gladys works for Senor Chazarreta, a man who drinks to excess, "crashes out" every night, and "has a face like a wet weekend," though she quickly adds, "what boss doesn't?" Gladys empathizes with Pedro Chazarretta, to some extent, because his wife died about three years ago under suspicious circumstances, but she does not dwell on this. He pays her well and has become angry with her only once, when a photograph disappeared from a display in his study, something he later acknowledges was not her fault. Entering the house, Gladys follows her regular routine, noting that her boss is still sitting in the chair in the living room, though it is morning. When she goes to wipe up his spilled whiskey beside the chair, she sees another stain, this one unfamiliar. Chazarreta is sitting upright with his throat slit from ear to ear. Elaborate security measures, satirized here, control the entrance and exit from this gated community near Buenos Aires. 
Pineiro, winner of the Pleyade Journalism Award for her past reporting, puts her many years of experience in the field to work as she develops the main characters, most of whom are associated with El Tribuno, the main newspaper in the area. Nurit Iscar, now single after her failed marriage and ill-fated three-year affair with the paper's editor, is at loose ends, working primarily as a ghostwriter after the failure of her last book. Previously known as "The Dark Lady of Argentine Literature," Nurit wrote a romantic novel during the height of her affair, and the novel's grand failure and its brutally hostile reviews have prompted her to "do a Salinger," hiding from the world to nurse her broken spirit. She has refused to write another novel.
At El Tribuno where Nurit's former lover, Lorenzo Rinaldi, is editor, word has hit the newsroom regarding Chazarreta's death, and since most of the city has believed for three years that Chazaretta killed his wife and managed to get away with it, this news opens many new avenues of investigation – and allows Pineiro to provide insights into the mores of journalism and into the relationship of journalists with the police and the government. Before long, Nurit, affectionately nicknamed Betty Boo by Rinaldi, receives a call from him asking her to investigate the two Chazaretta deaths and to write about them – "It's not the truth I'm after, it's writing that captivates, it's your interpretation of that world, your description of the people you see around, all those things you do so well." After much dithering, Nurit agrees, moving into a house in the Maravillosa community, arranged by Rinaldi, so she can be close to the investigation as it takes place. She eventually works with Jaime Brena, the former star of El Tribuno's News department, recently demoted by Rinaldi, and Crime Boy, the young, inexperienced writer who has replaced him.
As the complex investigation unfurls and the number of deaths increases, Pineiro explores many themes – Nurit's budding feminism is contrasted with the casual sexism of the men in the novel. She maintains her independence throughout the investigation, taking chances which horrify her male colleagues, especially as the death toll rises. Some symbolism – such as a character who runs almost full time – and even some spiritualism involving ghosts and a talking house also appear and add to the atmosphere. The greatest attention, however, is spent on developing the ideas of guilt and innocence, the use of police power to direct investigations to their own advantage, the question of whether random killings are really random, and the role of journalism vs. fiction in finding the truth and maintaining the public order, whichever works best. 
Throughout the novel, characters drink highly caffeinated "mate," the "national infusion," made from yerba mate and hot water and served in a calabash with silver straw. As traditional as some of these ideas and plot lines may appear, Pineiro is decidedly not traditional in her narrative style here, and long-time readers of Pineiro's work will be surprised when they pick up and leaf through the novel. Pages of type, with no paragraphing, no indents for dialogue, and no spaces to separate one episode from another can be daunting, since this stream-of consciousness style requires particular attention in following the dialogue and noting who is speaking. It does, however, allow the speaker greater leeway to speculate about issues, and it adds thoughtfulness and perhaps gravitas to the fairly traditional plot lines. The conclusion, always a surprise in Pineiro's novels, has some special twists here, too, some of which explain the narrative style.
BookSexy Review 
There are three epigraphs at the beginning of Betty Boo, the highly enjoyable mystery novel (her fourth to be translated into English) by Argentine author Claudia Piñeiro. One is a quote from Ricardo Piglia's Target In the Night.
"The story goes on; it can go on; there are various possible conjectures; it's still open; it merely gets interrupted. The investigation has no end; it cannot end. Someone should invent a new literary genre, paranoid fiction. Everyone is a suspect; everyone feels pursued."
The epigraph is a nod to the sense of unease (a sense that never materializes into the actual paranoia and fear Piñeiro valiantly tries but falls short of  conveying) that the murder of one of their own creates among the sheltered residents of  an exclusive neighborhood in Buenos Aires – where all who enter and exit the premises (guests, domestics, residents) are closely monitored at the gates. The victim is a rich and influential man and the murder scene staged to appear as a suicide. What makes the events newsworthy is that this man, Pedro Chazarreta, buried his wife five years before under equally suspicious circumstances. He had initially been, and in the eyes of the public remained, a chief suspect in her death.
The protagonist and, for the novel's purposes, lead "investigator" is Nurit Iscar – the titular Betty Boo.  Her nickname is inspired by her physical resemblance to the 1920's cartoon character.  Nurit is…  rather was… a successful mystery novelist dubbed "the Dark Lady of Argentine literature" up until five years ago (right around the time of the death of Chazarreta's wife) when a disastrous affair with a married man, her subsequent divorce and a series of scathing reviews of her most recent novel led her to withdraw from the literary world.  That last novel had been a departure from the crime stories readers had come to expect from her.  She'd written a much more personal work – a love story based on her affair. Since its public rejection she has stopped writing her own material and survived financially by ghost writing the memoirs of society ladies with illusions of grandeur.  She is fifty-four and her two sons will soon be graduating from university.  She is not unhappy, but has allowed her creativity to become dormant. There is a hole in her life.  She is surrounded and sustained by a small group of women friends – all of whom understand this and want her to return to publishing her own work.
And so when her former lover approaches and asks her to write a series of columns on the Chazarreta murder for his newspaper Nurit, after some convincing, agrees.  She will move into a house in the gated community where the murder occurred.  From there she will observe and report on events from the inside, using the proximity to tap into the residents' paranoia for her stories about the case.  As far as an angle goes, it's a good one.
At the same newspaper Jaime Brena, a journalist who sat behind the crime desk for decades, has recently been replaced by a young, wet-behind-the-ears upstart who knows more about social media than about actual reporting. When a call comes about this latest turn in the Chazarreta case Brena grudgingly hands it over. And yet… old habits die-hard and he forms an alliance, a friendship even, with the Crime boy. They – Brena, the Crime boy and eventually Nurit – will come to pool their resources and together attempt to follow the trail of a murderer with a very specific list of victims.
Jaime Brena tidies his desk, gathers up his papers, switches off the computer then notices just as he's about to go that the ruler with which he instructed the Crime boy to simulate his own throat-slashing is lying on the floor under his chair. Jaime Brena has had this ruler ever since he first came to El Tribuno. He has a tendency to form slightly fetishistic attachments to certain objects. He picks it up and puts it back in the drawer. Looking up, he sees that the Crime boy is still working at his desk, and he goes over to him. How's it going? Fine, says the boy. I'm just finishing up. OK, I'll see you tomorrow. Jaime Brena starts to walk away but after a few steps he turns back and says: Can I ask you something? Yes, of course, says the boy.Who would you like to be like? What? Says to boy. Who would you like to be like, who's your role model, your favorite journalist? Ah, from here or anywhere? From here, kid, here, and in Crime, because if you're going to write about Crime that's where you need to look for your role model. I don't know, I've never really thought about it. I got into Crime a bit by chance; my role models are in other areas. It shows, kid. Not to bring you down, but it shows.
Betty Boo is a better than good book. Piñeiro is a solid storyteller who avoids gimmicks and tricks and instead concentrates on the careful plotting, character development and psychological insight that distinguishes the best mystery writers.  Her plot reminds me a little bit of the British writer Anthony Horowitz (who wrote sequels to Sherlock Holmes and James Bond under the auspices of both the Doyle and Fletcher estates). Both authors explore issues and ideas, even politics, but only as far as it serves the story.  Their plots are meticulously constructed, built block by block like a case for the prosecution, and frequently stray into lurid (but not ridiculous) territory.
As for characters, Piñeiro has managed to populate Betty Boo with multi-generational cast – Nurit, her girlfriends and Brena are in their 50's. Their thoughts and concerns ring true to their age, as do their actions.  And the same can be said for the younger characters, like the Crime boy and Nurit's sons.  They possess the clichéd "arrogance of youth", but their self-absorption makes them no less likeable. The dialogue is sharp and interesting.  Individual voices stand out.  Quite an accomplishment, since Piñeiro compresses and contains her dialogue within the same paragraph as the action, abstaining from the use of quotation marks. This simple, little stylistic tick transforms the rhythm of the text into the rapid patter of old pre-code Hollywood movies. These are wonderfully engaging characters who are fun to be around. Their conversations are genuinely interesting, not just for the information, but for their humor and warmth they convey.  
Claudia Piñeiro's currently has three other novels translated into English.  All three are published by Bitter Lemon Press. None appear to be or have sequels.
Francois Von Hurter