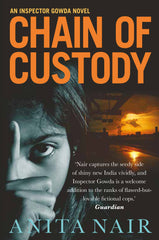 CrimeReview:
After a prologue in which Inspector Gowda is called to the scene of the murder of a prominent Bangalore lawyer, we hear episodes from the lives of several others, which eventually intersect. Gowda, together with his new assistants specialising in child protection Santosh and Ratna, assemble horrific evidence of child-trafficking.

One of the voices (in the first person) is Krishna, a young adult once sent to work in a brickyard at the age of six, who now gathers run-away children on behalf of a 'thekedar'. Another is Pujari, a man who arranges child prostitutes for the wealthy and well-connected: Pujari has a disabled wife, Gita, whose needs he considers justification for his activities. A third is Moina, a young teenager used as a prostitute who records the arrival of Nandita, the 12-year-old daughter of Gowda's cleaner.

We hear first-hand from the children who suffer from this pernicious trade. Tricked by other children suborned by their captors, seduced into compromising circumstances by older youths, or just snatched off the street, these kids are tipped into a hell from which escape is very difficult. While there are adults who seek to stop the trade, the general tendency of the authorities is less than supportive; sometimes even participating in it.

Inspector Gowda makes his second appearance here after the success of A Cut-Like Wound. Irascible and temperamental, he has many causes for discontent. His marriage is a running dispute, and even with his wife working away, he cannot feel comfortable in his affair with Urmila, a child welfare worker. His son Roshan is disturbed by his parents' rows and the preoccupations of a 20-year-old make it difficult for Gowda to find a connection with him.

Gowda is based in Neelgubbi, a Bangalore suburb rapidly expanding with new enclaves for the well-paid and much squalor in the older parts. His immediate superior Assistant Commissioner Vidyaprasad is an obstructive bureaucrat, demanding top priority for the lawyer's murder over child trafficking, even when Gowda and his staff are getting close. Luckily, Gowda has several excellent subordinates who revere the man despite his frequent frowns. Gowda rides around on his motorbike 'Bullet' which gives him a certain distinction.

The author creates a very believable protagonist in Gowda, a man with many failings but dedicated to redressing the problems of the oppressed. The picture she provides of the cogs in the child-trafficking machine is also sketched with some precision. Some are out-and-out evil, but most are drawn with enough balance to explain how people of no great bad intent can end up participating in this cruel trade. The amusing side of Inspector Gowda provides only a partial antidote to the bitterness of such revelations. 
 "I love Inspector Gowda.  He is a brilliant creation, loveable, flawed, smart and doggedly determined.  A truly good man in a bad world." Peter James, author of Dead Simple and Looking Good Dead
"Just finished this. Fine follow-up to @anitanairauthor's first Inspector Gowda book. Harrowing but compassionate tale of modern India." Ian Rankin
Ian Rankin: names three favourite novels for 2016 in the Guardian (November 26), includes Chain of Custody: 'concerns child slavery in Bangalore and is both brutal and sympathetic, with an all-too-human (and not entirely likable) cop hero.'
London Times favourite crime novels of 2016 includes Chain of Custody: Bangalore is India's Silicon Valley, the rich face of Indian success in modern technology and its commercial accompaniments. Such wealth attracts crime. Inspector Borei Gowda is an admirable three-dimensional creation, quick tempered and emotional. The search for a missing 13-year-old girl develops into the more serious discovery that Bangalore has become a hub for the sex-trafficking of young girls. It is Anita Nair's home town and it shows, in the lively portrait of a city in uncertain transition and in the passion with which she endows Gowda in his war against evil. Marcel Berlins
ForeWord Reviews:
Gritty and graphic, this mystery probes sex-trafficking rings, with empathy to their victims. Anita Nair's Chain of Custody is a gripping mystery set against the backdrop of India's hustle-and-bustle cities and landscapes. When a thirteen-year-old girl goes missing in a busy market, it's a race against the clock to recover her from a deadly criminal ring. And what does her disappearance have to do with the murder of a nearby lawyer? Borei Gowda and his partner Santosh must solve the disappearance, and they hope to find her alive, before she is sold or worse. The novel immediately introduces its lead character with all his vices, presenting them in a way that makes him refreshingly human. Inspector Gowda is a complicated individual. He is married, but he still feels an attachment to his mistress, his college girlfriend, Urmila. He is morally complex, an adulterer and a pessimist. Despite his controversial private life, his heart is shown to be in the right place. His investigation thrusts him into the dark and disturbing world of child sex trafficking, an underground but extremely common problem that is often pushed into the shadows. The book is less a mystery than an investigation into a massive underground world, a subject that rarely sees the light of day. The novel is gritty. It does not shy away from dark themes and violence, and is very much rooted in harsh realities. It occasionally switches perspectives to give voice to a young girl imprisoned in a brothel and forced to service its customers. Each character has his own struggles and demons, from young children living in poverty to the main character himself. The investigation takes many surprising turns, leading to an ominous conclusion. Chain of Custody is a graphic, satisfying read that delves into a controversial subject in a sympathetic and humane way.
SONYA LOVY
Book Bag Best 10 Crime Books of 2016
After the success of A Cut-like Wound published in the UK in 2014, Chain of Custody sees the return of Inspector Gowda of the Bengarulu (rendered throughout in its anglicised version: Bangalore) police, called in when an affluent lawyer is found dead at his home in a prestigious and well-guarded gated community. However, that is the prologue jumping ahead of the story – as is the current vogue.
Nine days earlier… a man is travelling on the Prashanthi express, watching three scrawny boys…runaways, almost certainly without a ticket. He knows the look. He remembers being one of them. He remembers how he got from a six-year-old sold into servitude to where he is now…doing, well, what exactly?
Meanwhile, young Reka is sneaking out to meet her boyfriend, the exciting and ever so slightly dangerous Sid, who has an idea for them both to make some money. The yellow butterflies in her stomach ask her whether she is making a mistake.
Elsewhere, Moina stared at the ceiling and thought of the sky that lay beyond it. She didn't know what lay beyond it, the sky or another floor. But she chose to imagine a vast blue sky, for only that would allow her to believe that one day this would end.
Life in Bangalore continues in its way. Land deals are being done. A man who loves his disabled wife, takes her to the temple, tends her and cossets her.
And Inspector Gowda is travelling the locality chasing after ATM dacoits.
He returns home to find the 12 year-old daughter of his housekeeper has gone missing. What starts as a search for this missing schoolgirl soon brings the Inspector's team into contact with the child-trafficking underworld…but is there any connection to any of that with a murdered property lawyer?
Nair has spoken in the press about how angry she became doing the research for this novel. Pushed to tackle the subject by a local media report estimating 55 million children in India are caught up in this racket that is barely spoken about, Nair set about getting official reports from police stations, talking to social workers and spending days working with the real-life NGO "BOSCO (Bangalore Oniyavara Seva Coota) working to rescue and rehabilitate children caught up in this modern day slavery. Her fictional detective is her vehicle for social comment.
Far from being a polemic though, this is first and foremost a thriller. The shifting viewpoints keep the pace up, the office politics of the police station are as centre stage as any wider political issues, keeping the focus down on the personal level. Santosh, who barely survived the first book, is being 'eased' back into the team – that's the theory at least – but as well as being barely yet work-fit, he's resenting the 'soft desk' on child welfare not to mention the attitude of his new partner, until he finds out just how smart she is and just how dark a beat he's been allocated.
Gowda fits the modern template for the flawed fictional police inspector, committed to finding the truth, hopefully in the pursuit of justice, but not necessarily hidebound by the rules. He has the archetypally messy home-life: a drug-addict son, an intelligent wife with a high-power job in another city, a lover closer to home and a borderline-drink problem that he's trying to keep in check.
Problems of insensitive laws, indifferent officials, uncooperative witnesses are taken as given, as is the pace of development which sees the rural outskirts of the city being swallowed up by new development and the inequalities inherent in the country being accentuated rather than addressed.
All of it told in the truly authentic voice of an author writing about her home town.
SHOTS Crime and Thriller ezine:
The setting is modern India and the author homes in on the lucrative business of child trafficking, centred here on Bangalore but with tentacles extending throughout the sub-continent.  Cases are chronicled in vicious and excruciating detail.  A schoolgirl disappears when attending church to pray for help in her exams; lovesick Rekha's boyfriend persuades her to perform dodgy services for a creditor, and three poor country kids on a train succumb to the charms of an older youth called Krishna.
Despite the emphasis on individuals, behind the kind "aunty" in the church, behind the winsome lads and the one with the seductive smile who has taken the name of a god, is a hierarchy of middlemen and entrepreneurs: pimps, enforcers, and a host of double-dealers from street vendors to lawmen, some of whom  trade to support their families, others selling their own children simply for profit.
Supply inevitably meets demand. In this glittering city of spanking new skyscrapers and plush offices, of gated communities in leafy suburbs, the rich pay high prices for under-age children – with the bonus  that the younger the victim the more likely it is to be healthy,  regardless of the lack of hygiene in the brothels.
The story starts with murder: a celebrated lawyer struck down in his own home, during the evening ritual of  single malt followed by cognac: an almost prosaic prologue to the atrocities that follow, the details of which the reader tries to block out to concentrate  on the redeeming feature: the Police.
With all the fine investigators that she has to follow Anita Nair has come up with an original. This is the second appearance of her Inspector Borei Gowda, an unpredictable teddy bear: a fat and guilt-ridden would-be sybarite afflicted with a strict wife, a loving mistress and a wayward son starting to experiment with hard drugs. Gowda is human but wily:  indulgent with his two youngest detectives (Ratnaclever and more worldly than her superior Santosh), appreciating the qualities of the more experienced men who  complete the  nucleus of his tiny force , all appalled by the horrors they uncover as  the result of investigating the first killing. These are Edmund Burke's "good men" – fictitious of course but their creator is real and her Acknowledgements List demonstrates the authenticity of her material and the formidable nature of research which was often field work. A brave author who has taken to heart the warning of a nineteenth century sage to shine a light on a trade where children are bought and sold as commodities. If you thought Rochdale was bad, read Chain of Custody.
 "Just finished this. Fine follow-up to @anitanairauthor's first Inspector Gowda book. Harrowing but compassionate tale of modern India." Ian Rankin
 Publishers Weekly:
Nair's satisfying second Bangalore police procedural (after 2014's A Cut-Like Wound) reflects the speed of change in modern urban India while providing a reminder that age-old dangers are never far from the surface. The disappearance of Insp. Borei Gowda's maid's 12-year-old daughter, Nandita, happens to coincide with the start of his investigation into the grisly murder of a wealthy lawyer. Might there be a connection? Chilling passages from the perspective of a child-stealing criminal contrast with the many often slow-paced sections focusing on Gowda, his colleagues, his enemies in the vast police bureaucracy, and his troubles with his shrewish wife, Mamtha, and with his girlfriend, Urmila, a dedicated member of a child welfare group. Another subplot concerns a looming threat to a college girl conducting a secret courtship. Nair manages to tie these disparate elements together, mostly successfully. Harrowing set pieces on child abduction drive the plot to resolution. Readers will look forward to spending more time in Gowda's agreeable company. 
Hindu Times:
A 12-year-old girl disappears from school one day, with every clue pointing to a vicious child trafficking ring. Enter Inspector Gowda.
Inspector Gowda is back. And how! In charge of a police outpost in Bengaluru rural district, Borei Gowda is a man with a good, if somewhat rusty, heart.
When his maid's 12-year-old daughter disappears from school one day, and is last spotted in the city's bustling Shivaji Nagar market area, he leaves no stone unturned to track the girl down. His colleague Santosh, who barely survived an assault on his life in the first book in the series, Cut Like Wound (2012), is put in charge of the investigation under the assumption that it will be a soft case. And thus ease him back into the job. But all clues point in a terrifying direction — a vicious child trafficking ring operating in the city. Gowda and Santosh are also aided by a new entrant, the go-getting constable Ratna, as they trawl through the city's underbelly in a virtual race against the clock — will they be able to rescue the girl before she is sold off to modern-day slave traders and meet a destiny worse than death?
The thriller elements and social commentary aside, Anita Nair's Chain of Custody (which hits bookshops this month) is also a story about Gowda himself, a 50-something man with a messy private life. His wife, a doctor, has shifted to Hassan because she doesn't like life in the undeveloped housing colony on Bengaluru's northern outskirts, and their teenage son has left with her to study there. Gowda suspects the boy is taking drugs, but doesn't know how to bring the subject up without further damaging the brittle family ties. He immerses himself in his job. But police work is not just about going out and catching crooks. There are all kinds of office politics, caste politics and other considerations that make Gowda's life unnecessarily complicated. Besides, living unwillingly separated from his family, Gowda has become intimate with the gorgeous 40-something socialite Urmila, who is engaged in child welfare.
Apart from being a fast-paced and engaging read with a deeply felt social agenda Chain of Custody gives us gut-wrenching peks into Gowda's thoughts: "This was a city where dog ate dog, rat devoured rat, and everyone would get ahead if they dismissed their conscience. Towers of Babel were rising everywhere and men came from all parts of the country to build these edifices that paid homage to human greed.
 Live Mint:
What comes to your mind when you think of Bengaluru? Pensioners' paradise, (mostly) great weather, endless traffic jams, city of pubs, best second-hand bookshops?
How about child-trafficking hub?
Chain Of Custody, Anita Nair's second Inspector Gowda novel, delves into this unsavoury, mostly unknown side of Bengaluru—a world where politicians, policemen, real-estate dealers and cucumber-sellers form a web to trap children, from places as far apart as Mumbai and Bangladesh, and use and abuse their bodies to make money.
It is not an easy topic to read about, and the reader is relieved to have Borei Gowda's sharp, unsentimental eyes to look at this world. The cynical policeman and his beloved Royal Enfield Bullet made their debut in Cut Like Wound (2012). Though the second book reaches us four years later, the action occurs just seven months after the fateful night at the end of Cut Like Wound.
Gowda's affair with his college sweetheart Urmila is continuing, much to his surprise, and the enthusiasm he had rediscovered for his work hasn't disappeared yet. His deputy, Santosh, who was hanging on to life by a thread at the end of the last book, has rejoined duty, though he is still recovering mentally and physically. A self-assured, intelligent woman, an assistant sub-inspector, is a welcome addition to the team. And the old gang of police constables Gajendra and Byrappa, no shrinking violets even in the first book, come into their own here—witty, impulsive and sometimes wise characters that we would want to meet if we ever had a chance to visit their police station in Neelgubbi.
Neelgubbi itself, once a rural hamlet, has been taken over by the demands of urbanization and the greed of real-estate developers. And the speed at which land is gobbled up is matched only by the rate of crime in the area. "…the number of complaints that filled the station diary pages often made Gowda think that this must be the crime hub of the city. Gambling, betting, bootlegging, drug dealing, dacoity, rape, murder, burglary, prostitution, and illegal possession of fire arms… whatever happened, Neelgubbi?" That plaintive question could be Nair's own query about Bengaluru, a city she depicts with great affection and knowledge in these books.
When Nandita, the 12-year-old daughter of Gowda's maid, disappears, the inspector and his team work against time to find her. This is, however, not the story of one missing child—the point the book seeks to make is much bigger. Nair details the viewpoints of multiple characters—from that of Moina, a Bangladeshi girl forced to submit to multiple "customers", to Krishna, who has no qualms about exploiting children (he is, after all, just doing what had been done to him as a boy). We are privy to the thoughts of both the oppressed and the oppressor. What this does is make these characters human—flawed, often evil, but human.
A book about child abduction and rape will necessarily be a harrowing read, and it is to Nair's credit that while she doesn't shy away from depicting violent scenes, they don't seem gratuitous. The dignity that she imparts to even the most minor actors, not leaving them as mere bystanders in Gowda's story, speaks volumes about her experience and talent as a writer. From a young boy who works in a tyre shop and longs for a can of Pepsi and a ride on a Bullet, to a haughty flower-seller who demands a rum-and-water in exchange for information, it seems natural that these people would speak and think like this.
And in the midst of all the grit and grime of unforgivable crimes is Gowda. It is not easy to make the character of an adulterer, with his tired excuses and useless guilt, seem endearing, but Nair's Gowda is just that. A committed officer sidelined by corrupt politicians and resentful colleagues; a curmudgeon who rediscovers passion with his college sweetheart even as he tries to avoid his wife's questions.
As befits a character around whom a series is built, Gowda is the linchpin that holds this book together. His abuses, barked orders, quiet desperation, disgust for his boss, affection for his team, and the myriad thoughts that go through his mind make him a presence that is missed when he is not on the scene. Gowda is no superhero—he is a policeman who has to deal with red tape, attention-seeking bosses and creaky office furniture in between solving crimes.
As with the first book, there are no easy answers. Nair is sensitive enough to realize that there may not be a "happily ever after" for children robbed of their childhood.
While it is not necessary to have read the first book, the reader may be able to appreciate Gowda's personality better if she has met him in Cut Like Wound. There are also spoilers for the "mystery" in the first book here. The word "mystery" is in quotes because these books aren't really whodunnits. The identity of the culprit (or rather, the ultimate culprit—Nair's characters operate in a grey zone where there can be more than one perpetrator) is generally obvious to the reader. But that doesn't take away from the book, because it is the course of the investigation and the lives of the people that make the reader turn the pages. Make some space, Rebus and Wallander. Our Gowda may soon be joining you.
Francois Von Hurter