Launch of "A Man of Genius" by Janet Todd--Events in March and April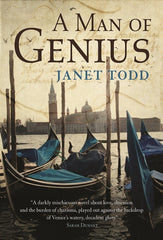 March 7: Daunts Books, 83 Marylebone High St, London W1 - 6.30pm. Free event but places limited so please rsvp: ahipcoxpr@btconnect.com.
March 15: Waterstones, 203 Piccadilly, London, W1 - 7pm – in conversation with historian and literary critic Ruth Scurr. Register here 
March 8: Heffers Bookshop, 20 Trinity St, Cambridge-- 6.30pm. Register here 
April 26: Topping & Co Booksellers, The Paragon, Bath – Tuesday 26th April, 8pm.
There will be other events throughout the UK and in the US. News to follow!!
Francois Von Hurter