Fallout by Paul Thomas in NZ crime award long list for 2015.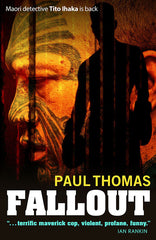 Long list for 2015 Ngaio Marsh Award for Best Crime Novel, revealed today and includes Fallout by Paul Thomas.
And Then There Were Nine THREE debut novelists and two established authors dipping their creative pens in the crime and mystery well for the first time help bring a fresh look to the longlist for the 2015 Ngaio Marsh Award for Best Crime Novel, revealed today. "It is fantastic to see more and more talented New Zealand writers bringing their unique voices, perspectives, and interests to one of the world's most popular storytelling genres," said Judging Convenor Craig Sisterson. "Crime fiction is a broad church nowadays, and this year's excellent longlist illustrates that well. It will be very interesting to see which of these books the judges prefer." The nine longlisted titles are:
Drowning City

by Ben Atkins (Random House)

Five Minutes Alone

by Paul Cleave (Atria)

Databyte

by Cat Connor (Rebel ePublishers)

The Petticoat Men

by Barbara Ewing (Head of Zeus)

A History of Crime: The Southern Double-cross

by Dinah Holman (Ravensbourne Books)

Trilemma

by Jennifer Mortimer (Oceanview Publishing)

Swimming in the Dark

by Paddy Richardson (Upstart Press)

The Children's Pond

by Tina Shaw (Pointer Press)

Fallout

 by Paul Thomas (Upstart Press/ Bitter Lemon Press)
The judging panel (crime fiction experts from New Zealand, Australia, the United States, United Kingdom and Iceland) will announce the finalists in May. The winner will be revealed at a special event held later this year in association with WORD Christchurch, which has supported the Award since its establishment in 2010.
Zebedee Administrator