A Shortcut to Paradise by Teresa Solana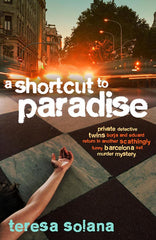 1

After his wife had left to take the children to school, Ernest Fabià sat down in his pyjamas at the formica kitchen table where they had eaten breakfast and decided to analyse the situation with a cool head. It came down to nine thousand euros. That was all. Nine thousand miserable euros. It didn't seem such a big deal.
But it was. It really was. While he weighed up the alternatives and the likely fall-out from their plight, he poured out another cup of coffee and tried not to wallow in one of those attacks of depression he'd been suffering for days. He wondered if it might not be a good idea to raid the medicine chest and knock back some of the tranquillizers his wife kept for emergencies, then had second thoughts. There was no point in putting himself to sleep. He needed to think straight, and that meant ensuring every single neuron was on active service. There must be something he could do. There just had to be.
About a week ago a complete stranger had called from his bank's arrears department to tell him he had two weeks to make up the deficit and pay the four months they owed on the mortgage. "Four months," this unknown quantity had emphasized in a most professional and unfriendly manner. On this occasion, the male voice had sounded aloof and had addressed him as "Mr Fabià", and that was a bad sign because, according to the latest telemarketing techniques dreamed up by some bright spark with an MBA, one should treat one's customer like a friend and be on first-name terms. Ernest immediately grasped that this ritual "sir" and pseudo-deference were extremely bad news.
And he was right. It was an ultimatum straight down the line. The man speaking on behalf of the bank had told him in no uncertain terms that apologies and promises were no longer enough. Another fortnight and they would be beyond the point of no return: if he and his wife didn't pay up, their flat would be repossessed. A mysteriously automatic procedure was activated in such situations, and mysteriously automatic procedures discounted the human factor. Their position was regrettable, that much the bank understood, but the computers dictating policy from some remote location only crunched numbers. And theirs, as he was only too well aware, couldn't get much deeper into the red.
He picked up yet again the Final Notice he still hadn't shown his wife that had arrived a few days after that exchange. Sipping the second cup of coffee he'd poured out in a fit of inertia, Ernest reread it several times, even though he knew the words by heart. Yesterday he'd heard the doorbell ring at half-past ten and assumed it was the postman who was the bearer of bad news. He was quite right, and that presentiment had now taken the palpable form of a cheap and threatening photocopy, the dreaded Notice. Those fucking bastards were telling him that if they didn't pay off the round sum of nine thousand euros they owed the bank, their mortgage would be cancelled, and that meant they would have to pay off every cent of the balance on their loan if they wanted to stop the bank snatching their flat from them. He and his wife had invested all their savings in those bricks and mortar and Ernest knew they would lose everything with the flat.
That Friday Ernest didn't even feel like switching on his CD player and listening to music. He usually preferred jazz in the mornings. Miles Davis, John Coltrane, Chet Baker. His galloping heartbeat echoed in the eerie, ominous silence. The neighbours must be all out at work or shopping, because he couldn't hear a soul in the inside yard. No one was washing up, hoovering or listening to the radio. He wasn't at all superstitious, but that silence didn't augur well.
Ernest crumpled the Final Notice in his fist, felt the bitter taste of cold coffee in his mouth and nostalgically recalled his youthful militancy on the far left, when he and his comrades-in-arms had ranted against capitalism, waved red flags and demanded that the banks be nationalized. Those distant, halcyon days seemed light years ago – twenty actually, though they could have been prehistoric for all the difference it made. True enough, Ernest was still ideologically in tune with the squatters in his neighbourhood (if not with their flea-ridden dogs whose turds dotted the pavements), but now neither he nor his friends were on the far left. On the left, at the most, if you were lucky. In fact, they were all happy simply to survive and for politicians and the tax inspectors to leave them in peace. As far as his generation was concerned, the time for utopias, like their youth, had gone for good.
He and his wife had bought that flat in Gràcia, near the Plaça del Diamant, a couple of years ago. Nothing luxurious. Ninety square metres built in the 1920s that needed lots of work, naturally. A flat they'd bought by making sacrifices galore and embracing all the illusions of the poor, just before Oriol (who was still the baby of the house) had come into the world. The purchase of that living space had been a big event at the time for the family, and Ernest and his wife gave a big party where Rioja and cava had flowed generously. The Fabiàs owned their home In Barcelona, where any flat was worth a mint! Ernest's parents, and his wife's, had had to make do with renting a tiny flat in the suburbs.
The fake economic prosperity that had trapped them in the property bubble was about to ruin their lives, although everyone had agreed their decision to buy a flat was eminently sensible given the astronomical levels reached by soaring Barcelona rents. That purchase had meant years of holidays eating chorizo sandwiches on the packed beaches in the Barceloneta, of doing without the little luxuries that ultimately gave life meaning, like eating out, going to the cinema or buying new clothes. Luckily ragged trousers and faded T-shirts were still the fashion, if only in their neighbourhood. Seven-year-old Jordi was the only one wearing new clothes in their household, and that was always thanks to the sales. A mere two-year-old, Oriol had to be satisfied with his brother's hand-me-downs and cast-offs from his female cousins, but luckily he was still a baby and hadn't noticed. Secretly, Ernest, who wasn't at all anti-gay, was rather worried his son might turn out to be a pansy after all those pink jerseys and trousers.
And all so they could buy a flat and have some security when the going got tough, which was more than likely when they both retired. If they ever reached that point, Ernest could only look forward to a pathetic pension, and Carmen, despite her degree in art history, was a humble temp on the minimum wage, who couldn't aspire to anything better.
Despite university studies they were both proud of – Ernest had a degree in anthropology as useful as any – their work was precarious and badly paid. And they could be thankful, because most of their friends were in an even more desperate state. In spite of all the facilities the banks advertised, they'd struggled to find one prepared to give them a mortgage. But they had been married for eight years, were paying a fortune in rent, so they dug their heels in until they finally managed to get a loan on a variable rate, after proving they had enough cash in hand to make a down payment and cope with the chunk taken out by the state, the famous ten per cent for costs that were euphemistically described as legal. Hence the need to save, scraping here and there and working more than all the hours God sent. The good news was that the value of their flat had increased by twenty per cent in two years, though nobody knew why exactly. In principle, they'd not done anything reckless. All the same, their foray into real estate had left Ernest and his wife flat broke.
Perhaps because he was young – a mere thirty-seven – and because he was generally in good health, Ernest hadn't foreseen that an illness, let alone an accident, would make him unable to translate a word for nigh on three months. He was a competent professional with a good reputation and wasn't short of work even though the rates were low. He translated from dawn to dusk, even longer sometimes, but he and his wife only just made ends meet. He usually worked for publishers and signed his translations, but occasionally he ghosted for other translators or translated boring reports for agencies that paid a little better.
The rot had set in with Ernest's car accident three months ago. It was the reason for their present financial problems, or at least the main reason. Oriol had been born shortly after they bought the flat, and from that day to this they'd not managed to save a single euro. When it wasn't one thing, it was another: Jordi's orthodontist, the unanticipated payments to repair guttering or plumbing, the refrigerator that went "pluff" one day and had to be replaced… Not to mention the monthly mortgage payments that impenetrable economic laws kept magically pushing up at the same time as they depressed their income. Ernest and his family lived from day to day, and faced ruin without the income he brought in, and the fact was he usually earned a lot more than his wife even if he wasn't on a salary.
And they were fortunate that it wasn't a particularly serious accident, though it looked dreadful and their car was reduced to scrap metal. No comas, paralysis or internal organs affected. In fact, only the bones of his hands, feet and ribs were fractured, and at his time in life bones mended sooner or later. However, he had broken something like a dozen bones, not to mention a couple of vertebrae that had been badly wrenched and were still playing him up. And as the driver of the four-by-four who crashed into him that night after jumping a red light had hit and run, there was no way he could have caught him. And the insurance company had
procrastinated when it came to paying compensation because there'd been no witnesses. And he'd been unable to sit in front of his computer for three months because both his arms were in plaster. And he'd put his usual work to one side because he was about to sign a contract to translate a nine-hundred-page bestseller a publisher needed in a rush, which he'd then had to hand to someone else, into the bargain. And the flat they'd bought was to blame for the fact they had no money set aside… As far as banks and creditors were concerned, all such melodramatic explanations, albeit sincere, were simply poor excuses for their defaulting.
Consequently, over three long months of plaster casts, depression and painkillers, the bills had simply piled up in a drawer in the Fabià household. His wife's income was barely enough to put food on the table, pay for the older kid's nursery and buy nappies. The eight hundred and fifty euros net Carmen earned as a secretary in a legal practice that was reputed to be mafia-run (three hundred of which were paid in black money) didn't stretch any further.
Fortunately, family and friends had scrambled seven grand together, which was a real miracle because they were all stony-broke. They had their own problems when it came to paying their mortgages or rent for their matchboxes, or had lousy retirement pensions, or were out of work, or earned a ridiculous pittance for work they did in the vain hope of getting a steady job in the future. Nonetheless, friends and relatives, generously and in goodwill, had dug deep in their pockets and got together more than a million of the old pesetas. Ernest and his wife were still two grand short, to be sure, but he told himself that morning that finding two was a sight easier than finding nine. He wasn't going to allow them to steal a flat valued at more than three hundred and fifty-five grand on the open market. Right then, two fucking thousand euros marked the difference between a future worth living or destitution for Ernest and his family.
It was while he was rereading that threatening Final Notice for the nth time and imagining them all piling into the small flat his parents rented in Hospitalet that he reached a decision. He'd spent that week on bended knees before his bank manager and had rung all the financial institutions that advertised in the daily papers or on television, trying to get another loan, a puny loan of two grand you had to pay back fourfold in reasonably easy monthly instalments. To no avail. Ernest discovered the banks gave out money to pay for little luxuries, but not to clear debts. Banks didn't turn on the tap when you really needed it, when it was an emergency, or was, as Ernest kept telling everyone, the fault of that bastard, who'd been blind drunk, he was sure. It could be months, even years, before they received any insurance money, and to get that they'd certainly need to hire lawyers and pay out a pile of dough.
He knew what he was planning was pure madness and that he'd better not let on to anyone. Nonetheless, he was a man at the end of his tether and that threatening Final Notice didn't leave him any choice. He must act, and quickly. So rather than ducking out, drinking himself silly, mixing a cocktail of sleeping pills or walking out on a sinking ship, Ernest decided to put himself into the shoes of the heroes of the novels he translated and, for the first time in his life, he took the bull by the horns.